Take AI Conversations to the Next Level with
Chatsonic's

Free Prompt Marketplace!
Explore creative ChatGPT prompt ideas without spending a dime in our AI prompt library. Or, create your own prompt templates for ChatGPT, share them with the world, and earn exciting rewards.
Get started now!
Trusted by 1,000,000+ marketing teams, agencies, and freelancers. 10,000+ 5-star ratings.
Unlock your prompt engineering potential—Tap into brilliant ideas from around the globe!
With Chatsonic's AI prompt manager, anyone can use different prompt templates for ChatGPT. It's easy to use, requires no special skill, and you can build your own AI prompts too!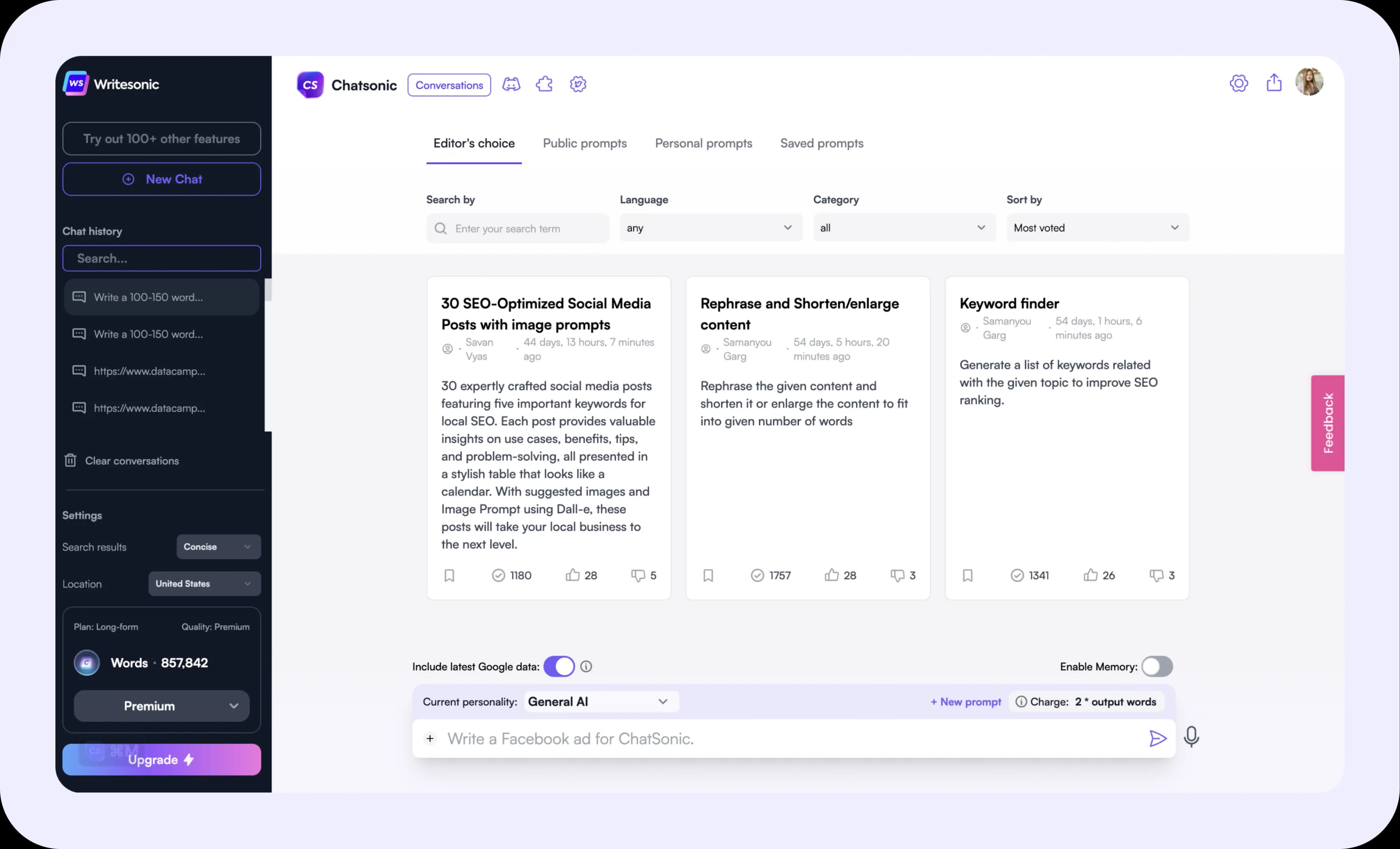 Grab your AI Prompt Toolkit for FREE
Using ChatGPT prompts has never been easier. With Chatsonic's free ChatGPT prompt marketplace, you can save even more time creating content with AI.
Get access to AI prompt marketplace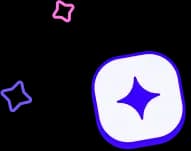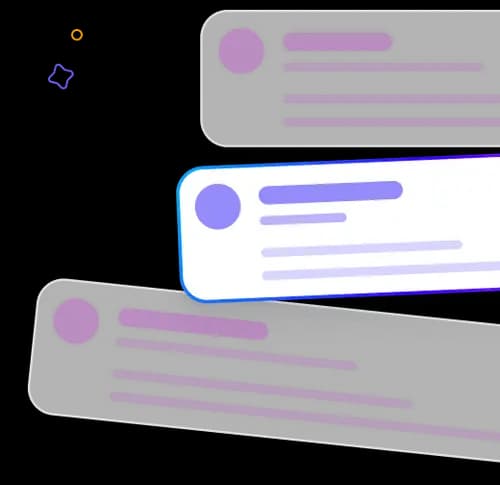 Choose an AI prompt library with multiple benefits
Chatsonic prompt library is a free alternative to AIPRM with a treasure trove of prompts for generative AI tools. Plus, you don't need an extension to use AI prompts!
Find and use free ChatGPT prompts created by the best minds in the world (and Chatsonic users).
Free prompt marketplace, unlimited access
To access this AI prompt library, all you need is a Writesonic account (even the free trial works!).
Comprehensive AI prompt toolkit
Our AI prompt marketplace is full of different prompt templates for ChatGPT (like AIPRM)
Unlike AIPRM, Chatsonic's ChatGPT prompt library doesn't require you to download a separate extension.
Check out some AI prompts
Facebook ad copy prompt
Get catchy headlines, persuasive language, and engaging content that resonates with your potential customers.
Content research prompt
Generate new and interesting ideas, identify relevant sources of information, and organize your research materials.
Instagram captions prompt
Create captions that capturethe essence of your posts,and increase audienceengagement and reach.
Email subject lines prompt
Generate unique ideas, write attention-grabbing copy, and optimize your subject lines for increased open rates and engagement.
Video scripts prompt
Create clear and concise video scripts that effectively conveys your intended message to the target audience.
3D AI Character generation prompt
Generate unique lifelike - expressive 3D characters and use them on applications such as video games, films, virtual reality etc.
See what everyday users love about Chatsonic's AI prompt marketplace
I have found Chatsonic prompt marketplace to be an incredibly useful resource for generating ideas and inspiration for my content creation projects. The AI-powered prompts are unique, diverse, and highly relevant to a wide range of topics and themes.

Mark Smith
Content Marketer
"Chatsonic marketplace prompts are be highly relevant to my specific industry and area of expertise, which means that the content I produce is always aligned with my personal branding goals and vision. Love these prompts!"

Amanda Swift
CEO
One of the biggest challenges I face as a student is coming up with original and compelling ideas for my assignments. Chatsonic marketplace provides me with a steady stream of fresh prompts so I can think outside the box. Moreover, it's free!

Gary Lee
Student
Frequently Asked Questions
Share your unique AI prompts with the
Chatsonic

community to earn exciting reward
Put your creations out there. The best prompts get featured in Editors' Choice, and you get a chance to win 20,000 premium words on Chatsonic!
Get started for free!