Quora Answer Generator - Unlock the power of automated quora answers!
Start creating engaging and captivating quora answers instantly with Writesonic's AI Quora answer generator.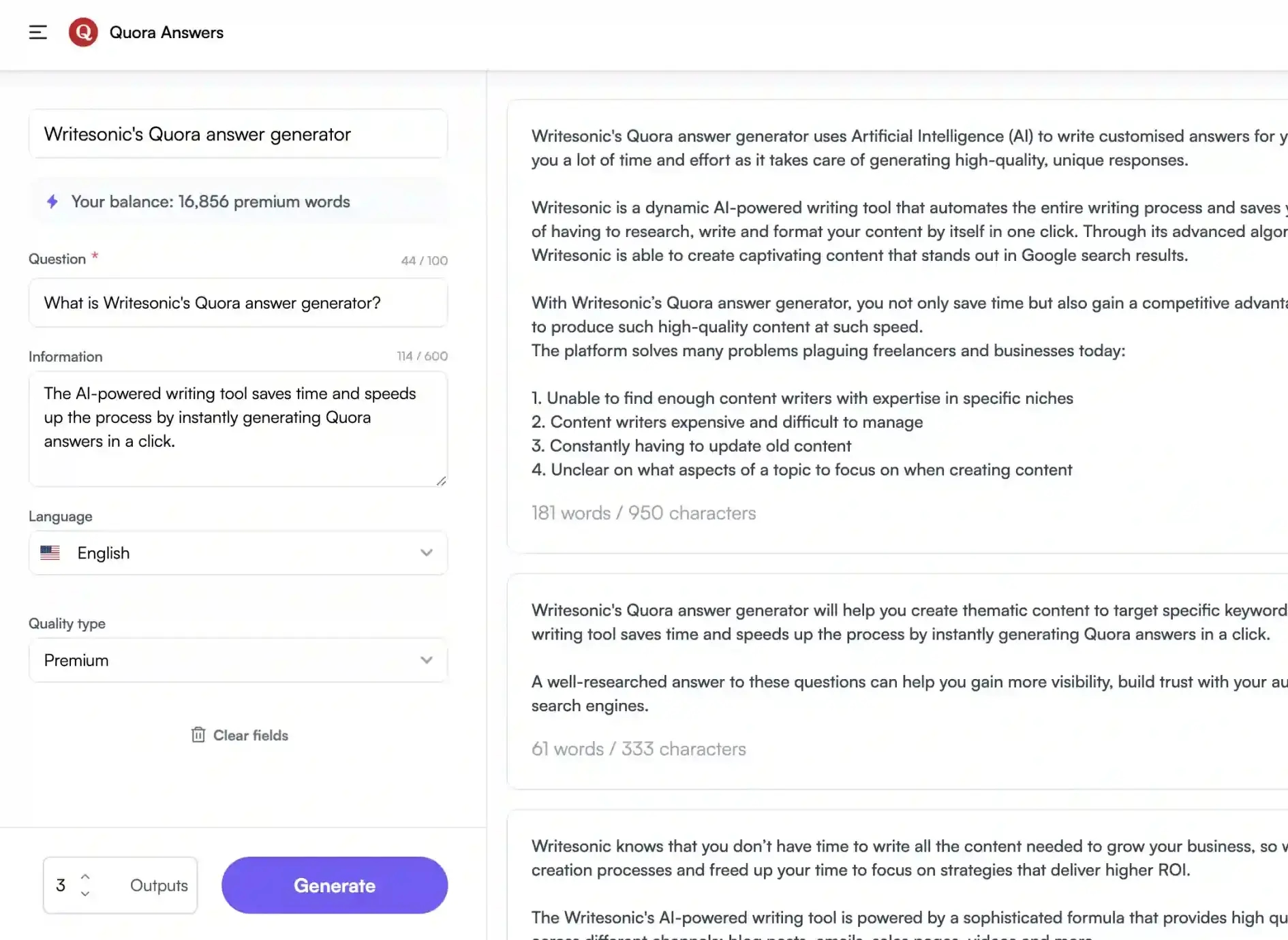 More than 33218 quora answers have been generated by our clients; when are you coming up with one?
Level up your creativity and start writing Quora answers with Writesonic's AI Quora answer generator!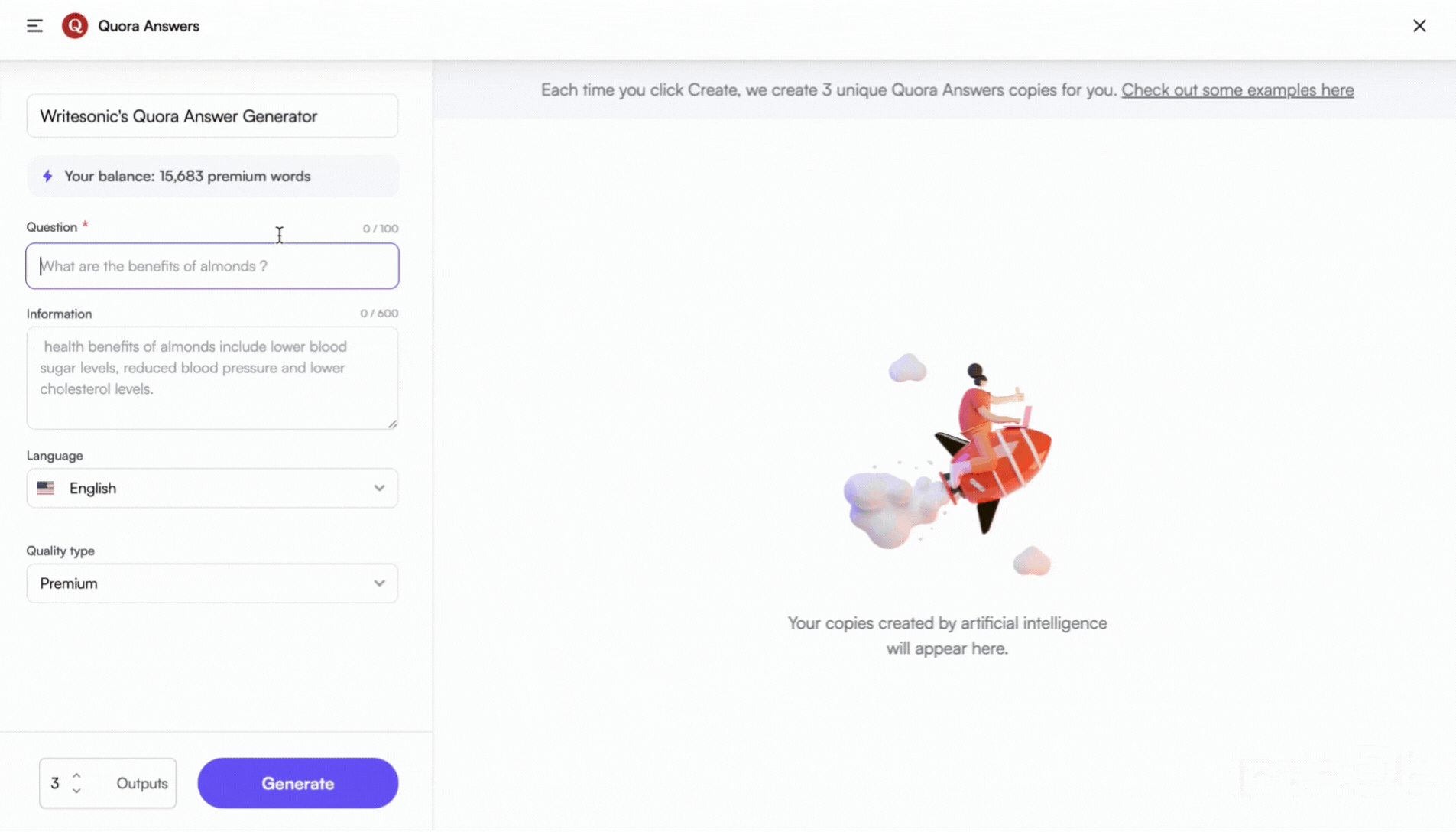 Craft perfect Quora answers instantly
Searching for an easy and quick way to generate quora answers? Look no further than Writesonic's Quora Answer Generator! It is an AI-powered tool designed to save time and craft a perfect quora answer instantly. With the intuitive and user-friendly interface, you can instantly create answers to any Quora question in just a few clicks. Plus, the powerful algorithm ensures that all generated answers are of the highest quality and perfectly tailored to the question.
Become a high-profile Quora writer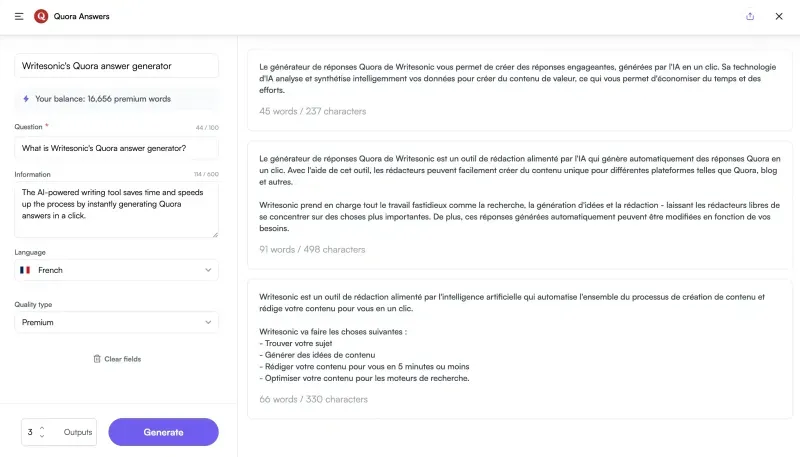 Automatically generate Quora answers in 25+ languages
Are you looking to generate answers in a language other than English? No problem! Writesonic's Quora Answer Generator supports 25+ languages, so you can easily write answers in any language you need. This can help you to communicate with people all over the world on Quora. So, what are you waiting for? Time to win more followers, build credibility, and increase the chances of success on the platform.
Communicate with people globally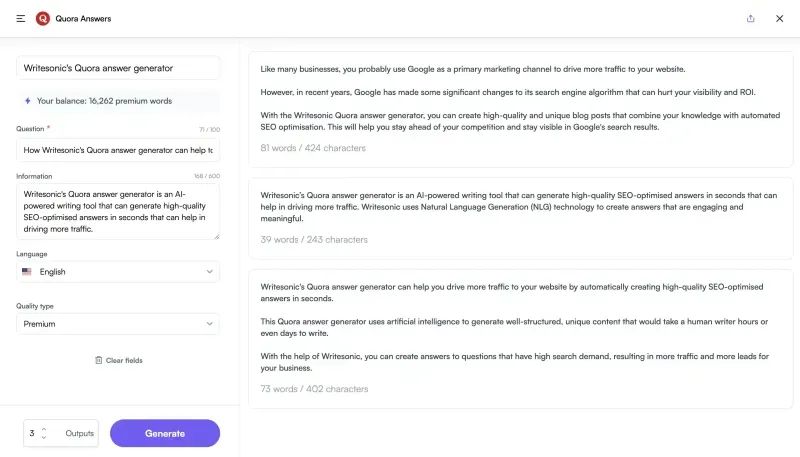 Create SEO-friendly answers and drive more traffic
Having a hard time coming up with persuasive answers? Say goodbye to the writer's block with Writesonic's Quora Answer Generator! The AI-powered content creation tool can help you to articulate relevant and engaging answers with relevant keywords that can drive more traffic to your website and improve your online presence. Get ready to dominate Quora marketing with Writesonic's Quora answer generator.
Drive traffic and autopilot your views
Creating thoughtful Quora answers is super easy now!
See how quickly you can come up with engaging quora answers relevant to your target audience with Writesonic's free Quora answer generator.
Get started now!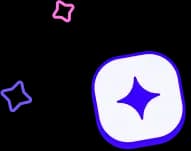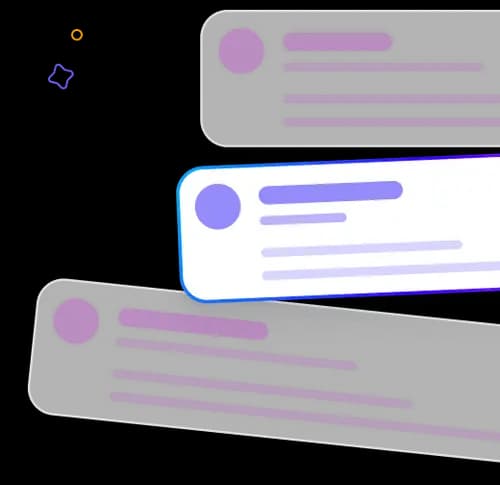 How to write Quora answers using Writesonic?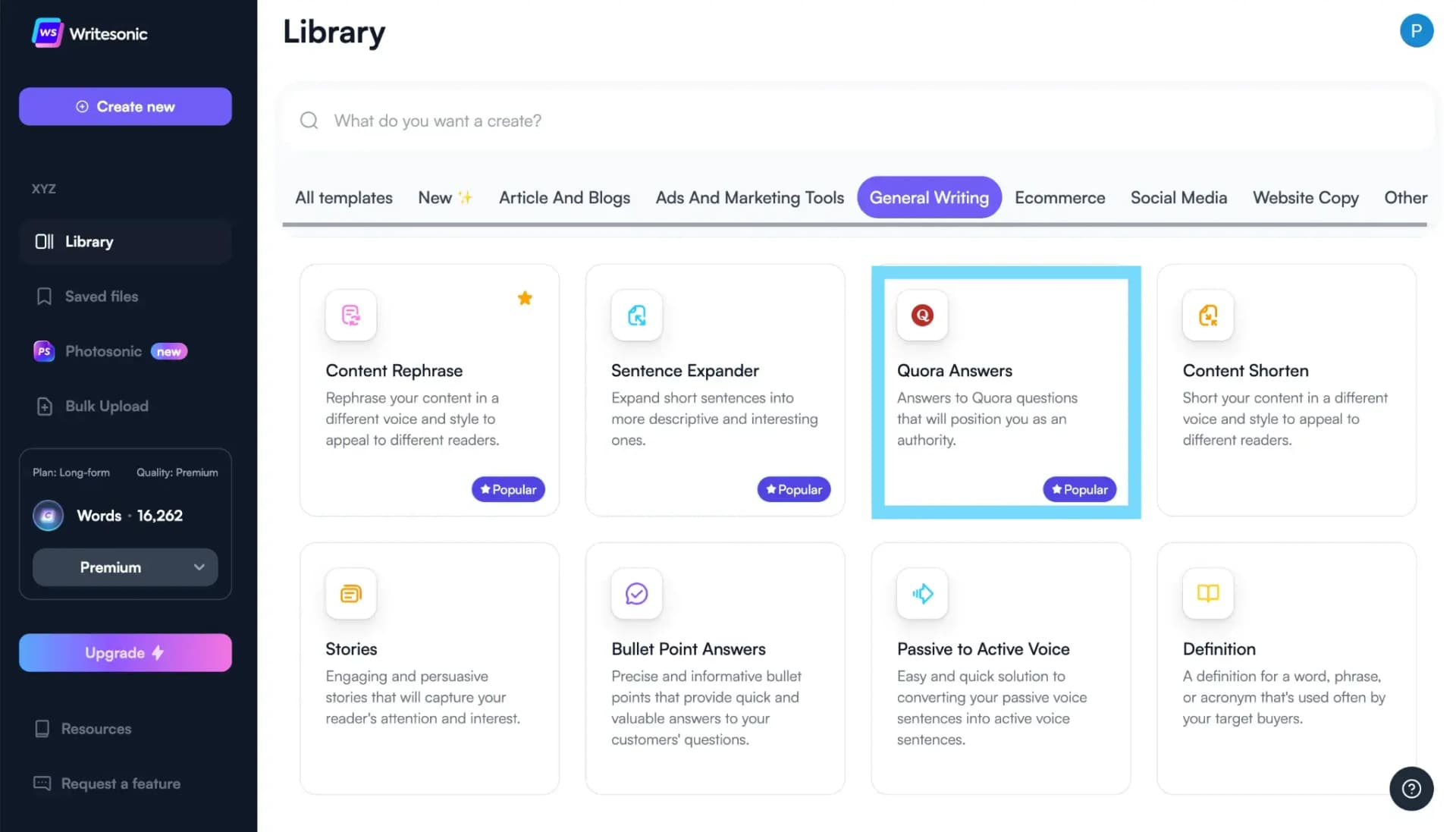 Step 1: Select "Quora Answers" from Writesonic's library.
Generating answers to Quora questions can be a time-consuming task. But with Writesonic's Quora Answer Generator, you can create answers 10x faster and encourage readers to take the desired action. Here's how.
Log into Writesonic's account; if you don't have an account, sign up for free today. Then, go to the dashboard and select "Quora Answers", which will take you to the Quora answer generator page.
Step 2: Enter the details.
To generate a quality answer, you need to make sure that you enter the details in the best possible way. Remember, your output depends on your input. So, try to be as descriptive as possible.
Think about "what type of answer do you need?" or "who is your audience?" and so on, and then enter the details.
Enter the quora question and information available, if any. Then, select the language (Writesonic supports 25+ languages) and quality type (Superior or Premium). Keep the quality premium for better results.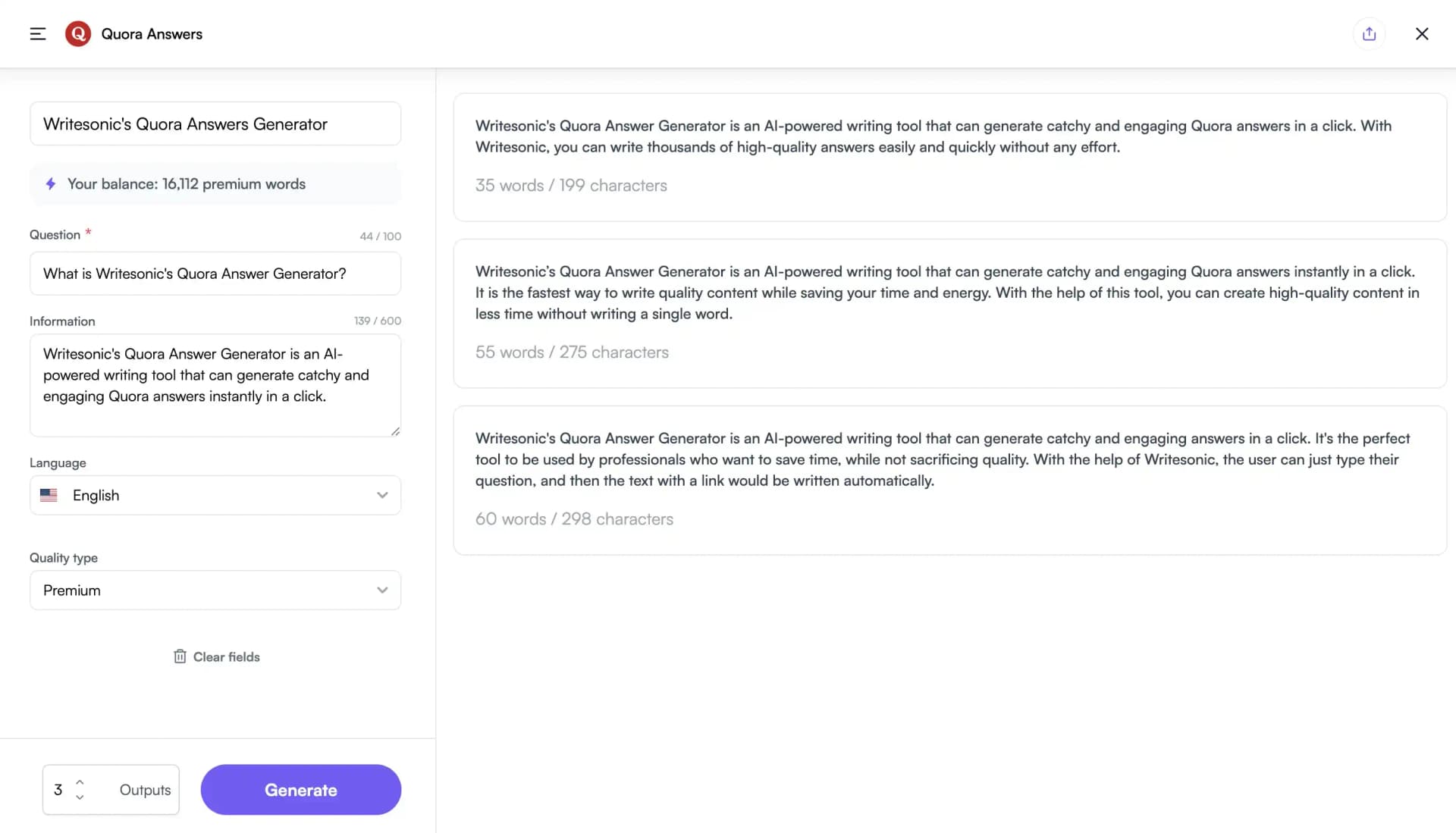 Step 3: Hit generate, browse, and save the one you like.
Once you feel you are ready to go, now click generate button, and let Writesonic's Quora Answer Generator do the rest.
And ta-da!!! The tool will create three unique and convincing answers for you to choose from.
If you want more variations, click on the generate button again and Writesonic will create a few more variations. Go through and choose from the answers generated. Edit to add a human touch to it, or customize them more if you want.
Example of Quora answers
Quora is a great platform to learn from others and to share your knowledge with the world. It is a great platform for finding answers to difficult questions. A great Quora answer is detailed, clear, and concise. It helps the readers understand the subject matter better and provide them with the answers they are looking for. Here's an example of a Quora answer generated by the Writesonic.
How Quora can help in boosting content marketing efforts?
15 Answers
Content marketing is a great way to boost engagement on your website, blog, and social media pages. Quora can help you achieve that goal in a number of ways.
First and foremost, Quora is a great platform for finding and answering questions related to your industry. This allows you to establish yourself as an expert in your field and draw attention to your website/blog/social media pages. You can even link to your own content within your answers, giving users a direct route to your content
.
On top of that, Quora is a great source of content ideas. By searching for topics related to your industry on the platform, you can gain inspiration for new blog posts and videos. This is especially helpful if you're feeling stuck or in need of some fresh ideas.
Finally, Quora is a great place to promote your existing content. You can share links to your blog posts, videos, and other content on the platform, giving them exposure to a large audience. This is a great way to increase traffic to your website and get more people engaging with your content.
In short, Quora can be a powerful asset in your content marketing efforts. It's a great platform for finding and answering questions about your industry, gaining content ideas, and promoting your existing content. So why not give it a try?
How to grow engagement on Quora?
15 Answers
Growing engagement on Quora is a great way to grow your presence and build relationships with other users. Here are some tips to help you do just that:
Participate in conversations: One of the best ways to grow engagement on Quora is to participate in conversations. This means leaving thoughtful and meaningful comments, asking insightful questions, and giving helpful answers. It's also important to make sure that your content adds value to the conversation, and not just filler material.
Respond to comments: If someone has taken the time to comment on one of your posts, be sure to respond! Acknowledge their comment and thank them for taking the time to read your post and share their thoughts. This will help foster a sense of community and encourage other people to engage with your content.
Ask questions: Asking questions is a great way to generate discussion and get people talking. Try to come up with interesting questions that are relevant to the topic you're discussing. This will help to spark engagement and get people involved in the conversation.
Share your knowledge: Sharing your knowledge is a great way to grow engagement on Quora. Think about topics that you have expertise in and start writing thoughtful answers. People will appreciate your expertise and it will help to create an engaging conversation.
Following these tips should help you grow engagement on Quora. With a little bit of effort and dedication, you should be able to build relationships with other users and increase your presence on the platform.
Frequently Asked Questions