Story generator - Craft compelling stories for your readers with a click!
Come up with captivating stories that can hook your readers and keep them engaged with Writesonic's AI story generator!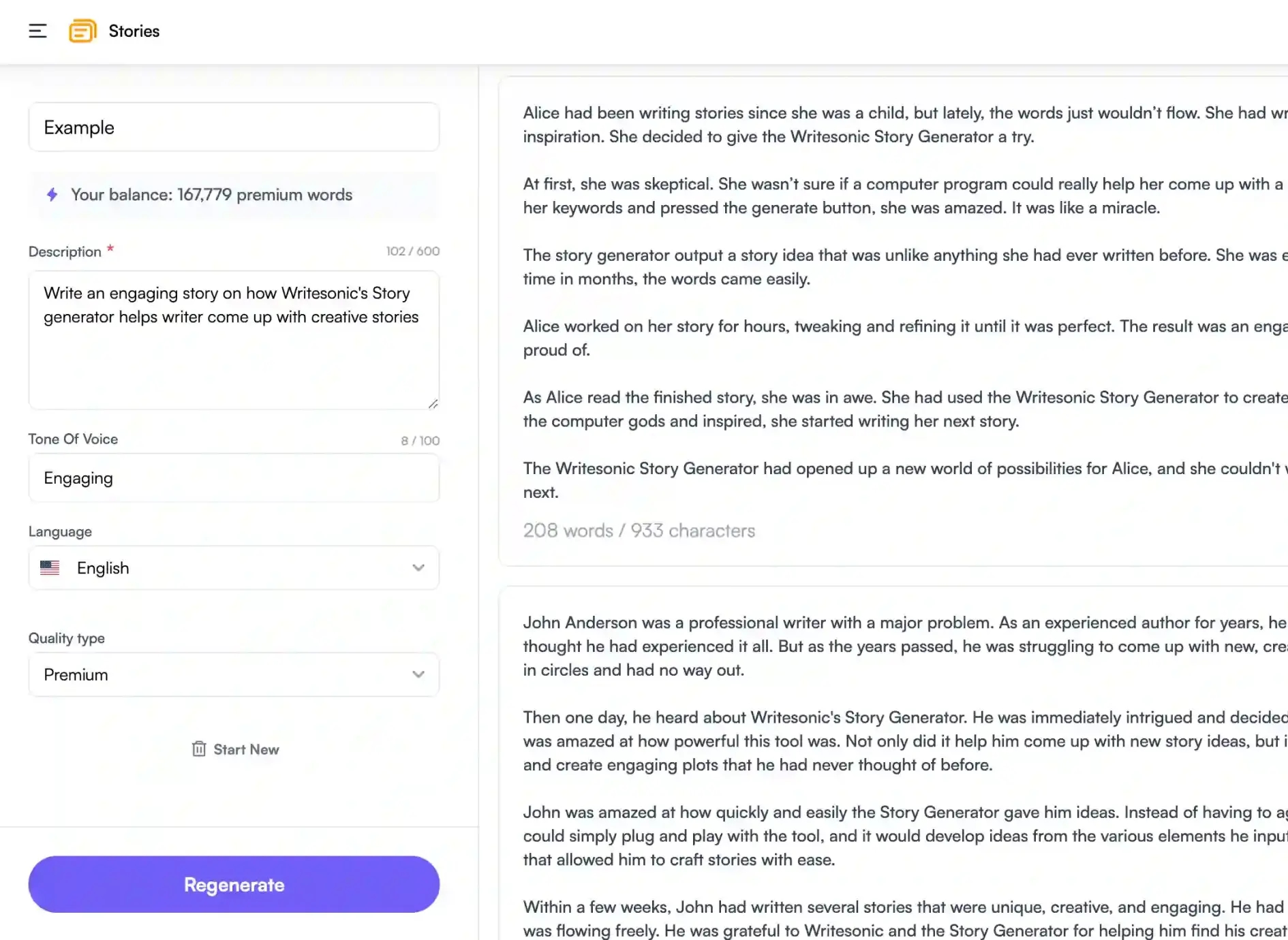 More than 22,800 stories have been generated by our users till now; what are you waiting for?
Get ready to level up your storytelling game and captivate your readers with Writesonic's AI story writer!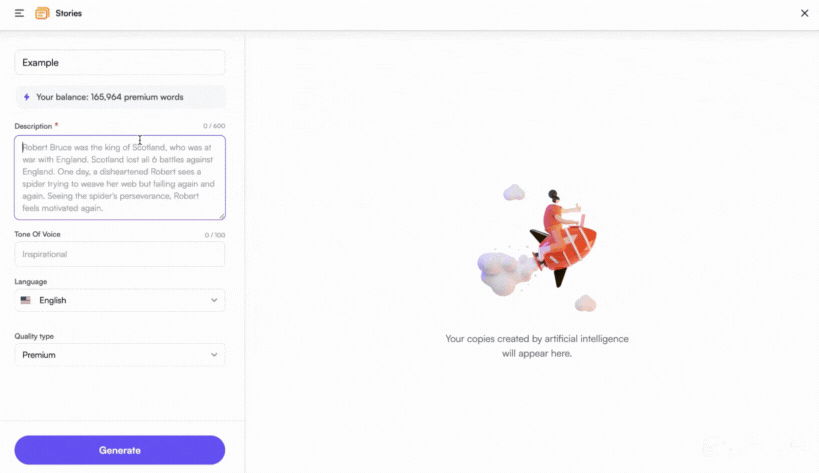 Create compelling stories with a click!
Crafting a well-written story that can leave a lasting impression can be a complex task. Moreover, it can be super hard to come up with the right words to make your story engaging.
With Writesonic's story generator, you can create stories that can transport your readers to a different world. All you need to do is enter the inputs and let the AI story writer do the rest for you. It takes into account the genre, keywords, character details, and other inputs to come up with a unique and captivating story.
Generate stories in a click!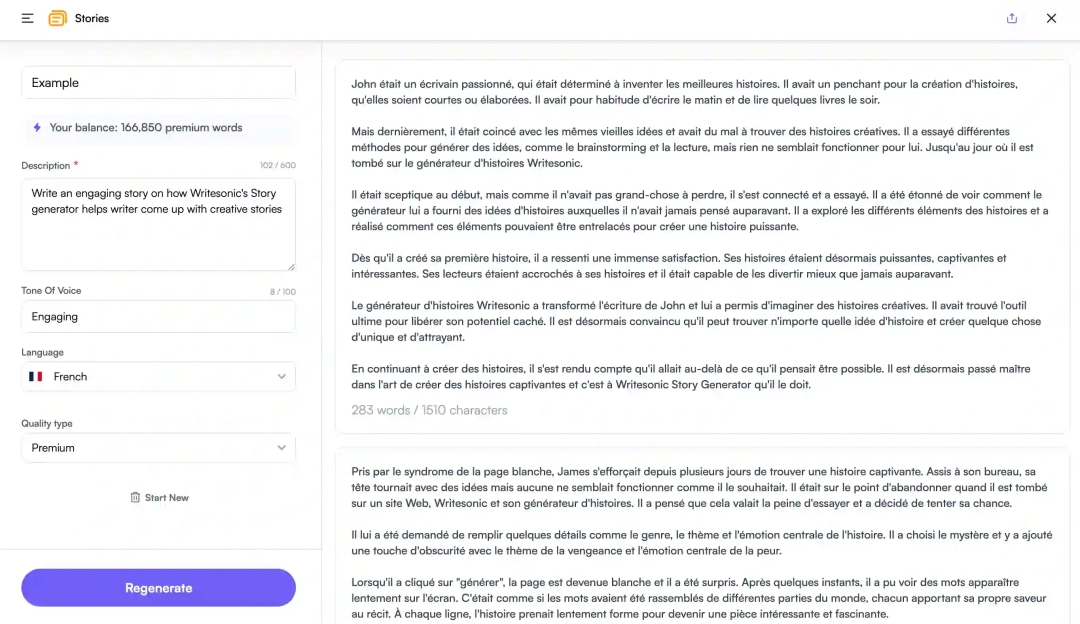 Generate stories in 25+ languages
Have readers from all around the world? No worries! You can easily reach a wider audience with Writesonic's story generator, which can help you write stories in 25+ languages.
So, no matter whether your readers are from which part of the world, you can still reach them with your compelling stories. Time to give your story the global reach it deserves with AI generated stories.
Craft stories in multiple languages!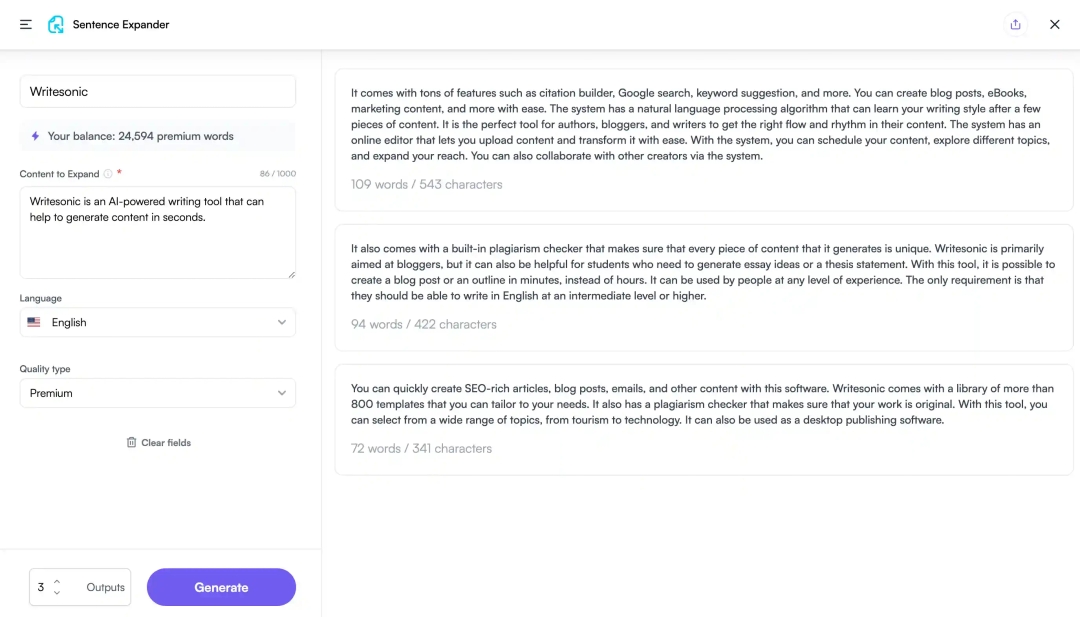 Bring your ideas to life
Whether you're writing a mystery, fantasy, romance or any short story, Writesonic's AI story generator is designed to provide you with stories in different genres. Just with a click, it can help you to bring your creative ideas to life.
Say goodbye to writer's block and craft captivating stories that can quickly grab the attention of your readers in a fraction of a second.
Generate story that trigger emotions!
Let the creative juices flow and generate creative stories with AI plot generator!
See how Writesonic's AI story writer generator can magically generate catchy story ideas and craft a detailed story with a click.
Generate stories for free!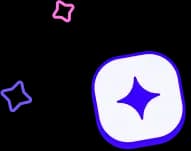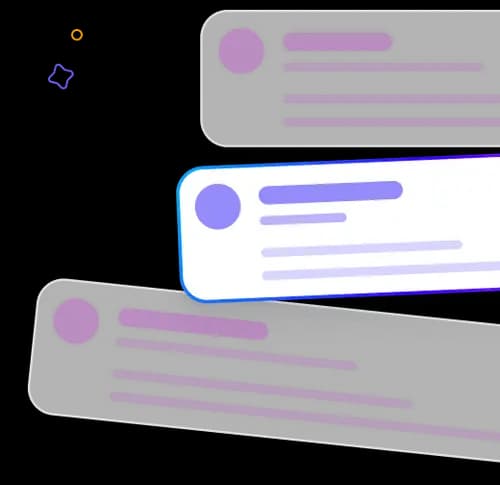 How to use Writesonic's Story Generator?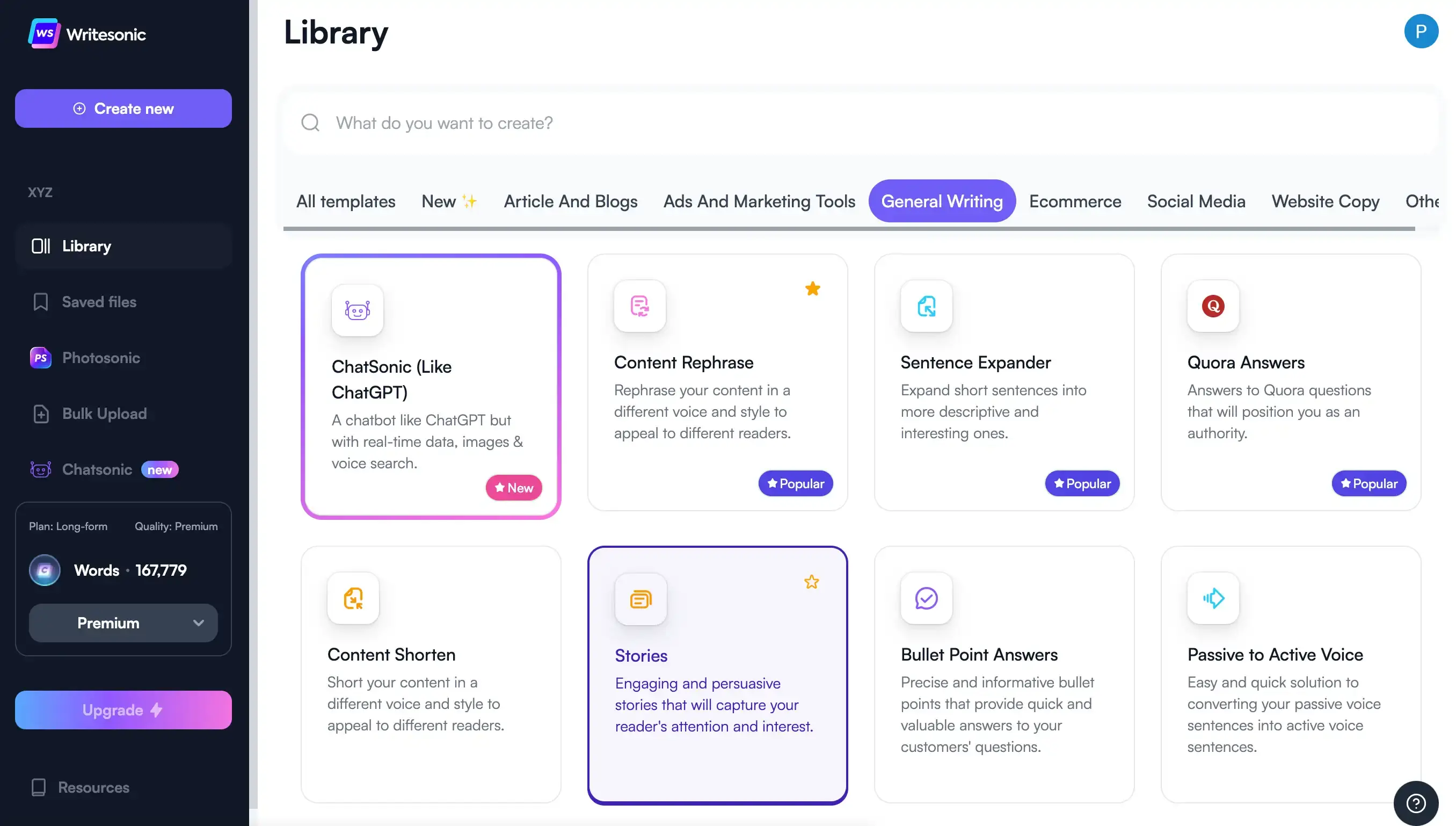 Step 1: Select "Stories" from the dashboard.
Ready to create amazing stories and captivate your readers without spending hours of research? Let's get started!
First, log into your Writesonic account. If you don't have one, simply sign up and create an account for free. Next, go to the dashboard and click on "Stories." It will take you to the story generator page, where you can create amazing stories.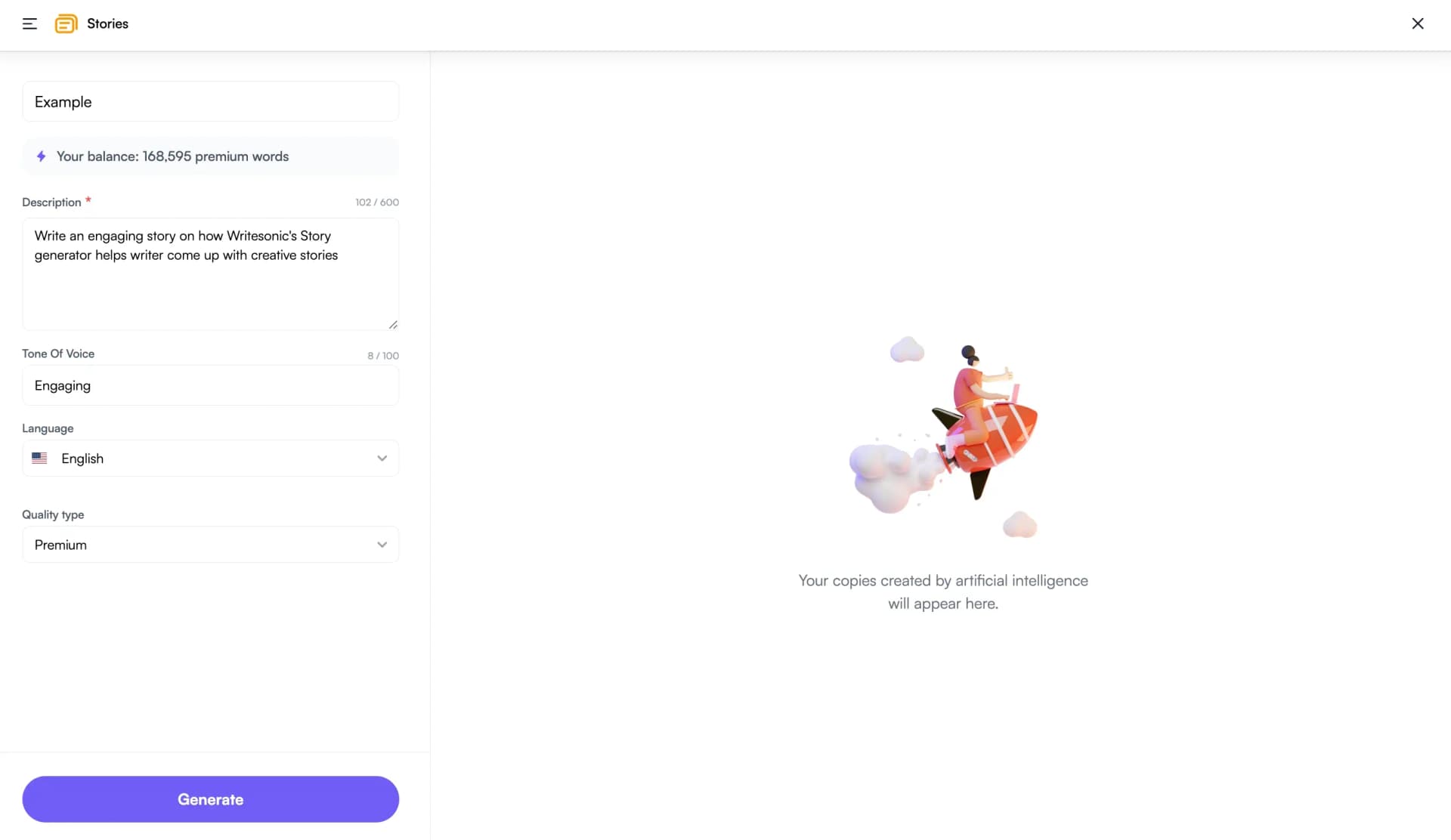 Step 2: Enter the details.
Now that you are on the story generator page enter the details regarding the story you want to generate. Enter the description regarding the type of story, and add the topic and theme of the story in the input box.
Next, select the tone of voice you want in your AI-generated story. Choose the language you want. Writesonic supports 25+ languages. And then, you need to choose the quality type, i.e., Economy, Average, Good, or Premium.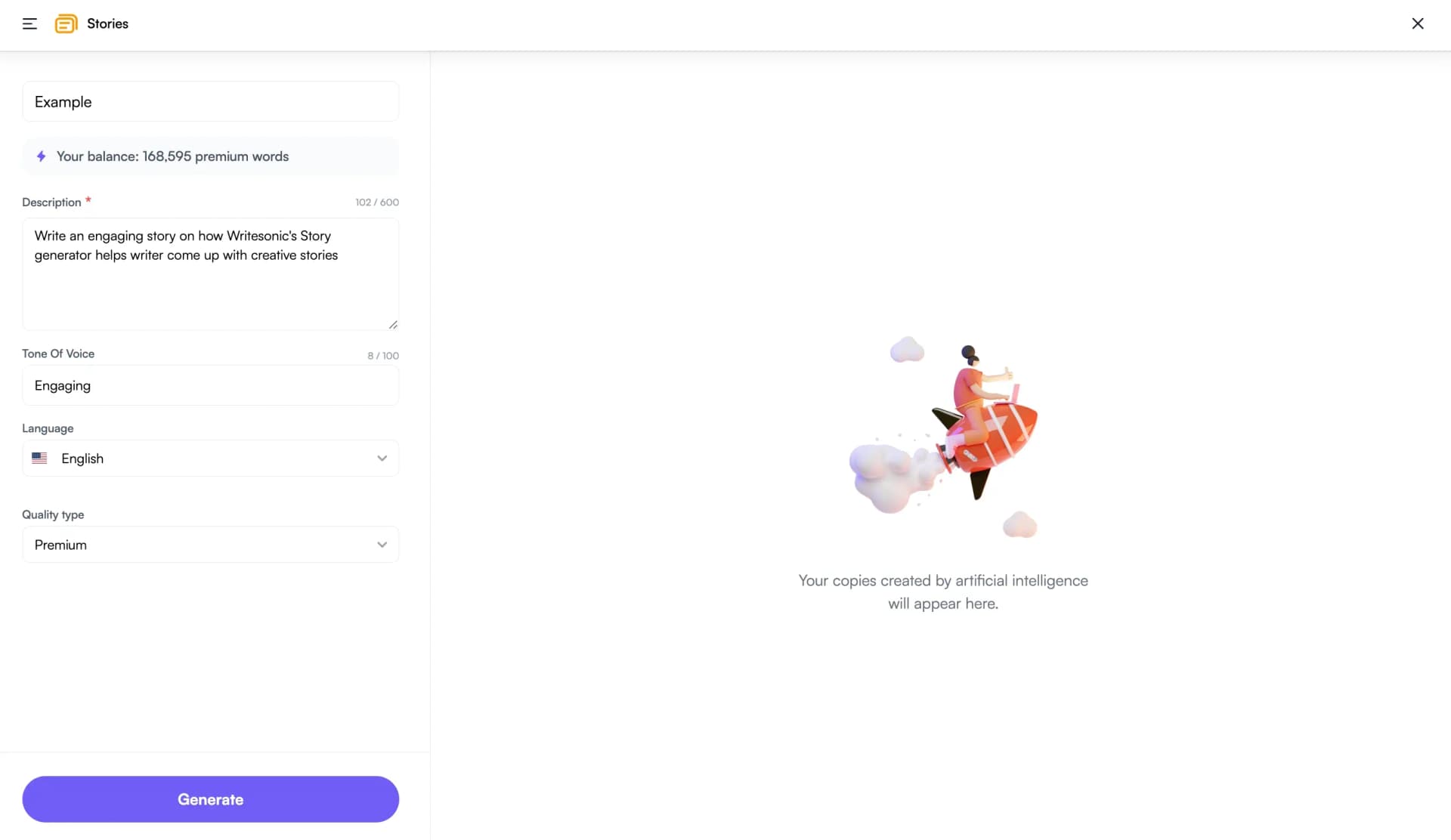 Step 3: Hit generate, browse, and save the story.
Once you have entered all the details and are satisfied with the same, you're good to go!
Hit the "Generate" button, and voila! Writesonic's AI story generator instantly generates a few unique and captivating stories that you can choose from. Browse the AI generated stories and select the one you like.
In case you want more variations, hit the generate button again. The story generator will come up with a few more variations that you can choose from.
Frequently Asked Questions