Text summarizer - Generate a well-written summary quickly and easily!
Write short and unique summaries of your text copy without making any changes to the original tone with Writesonic's Text Summarizer tool.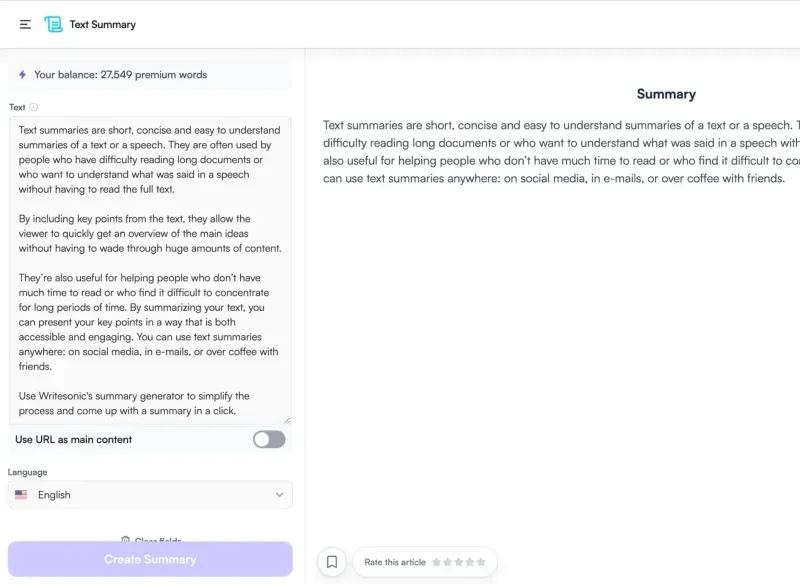 More than 50,000 text summaries have been generated by our clients and the best of companies
Get ready to create a better and more concise version of your original text copy with the summarizing tool!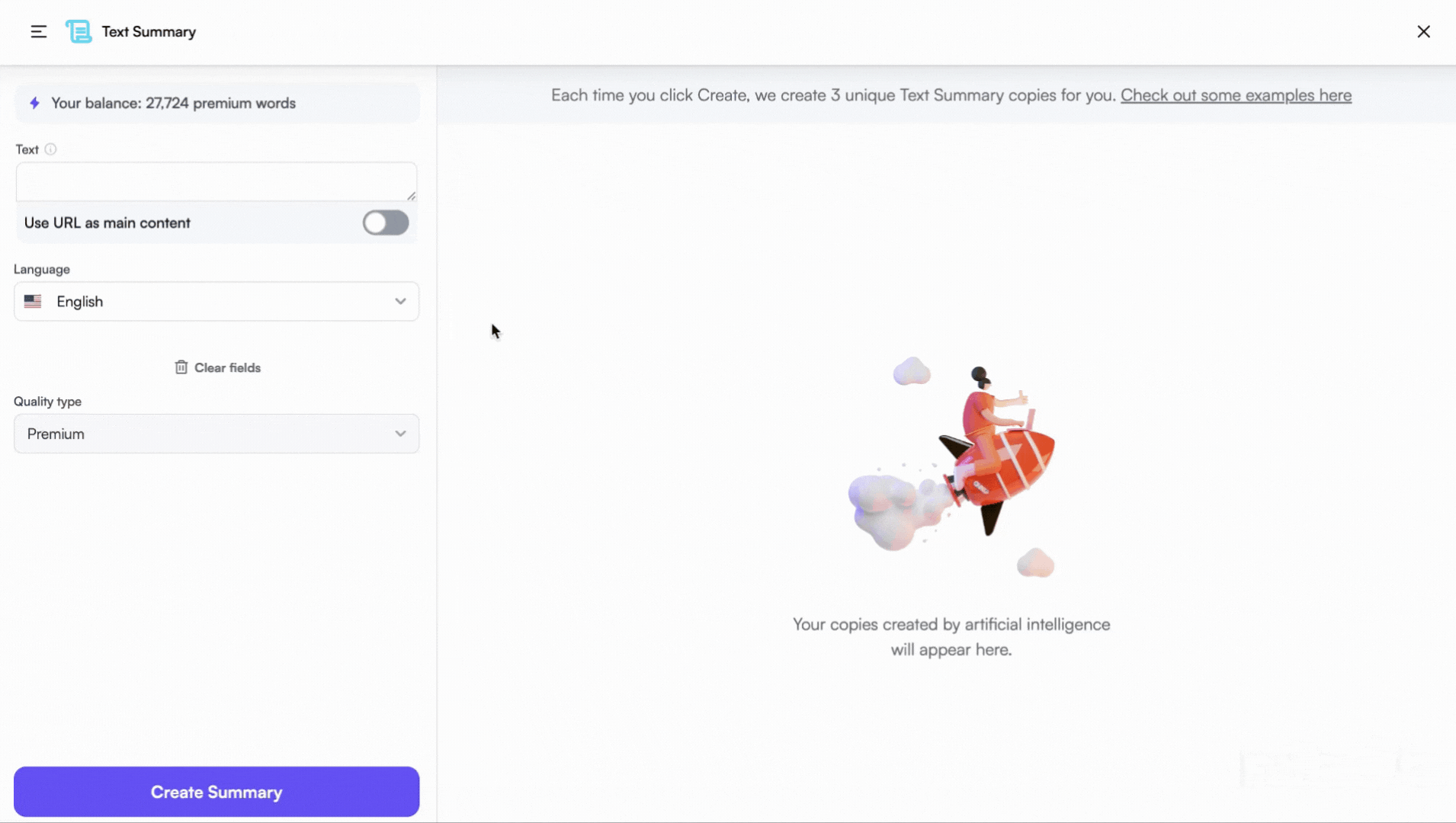 Save time by summarizing your text in one click!
It's not always easy to summarize an idea. There's nothing more frustrating than staring at a blank page. With Writesonic's AI text summarizer, you can get the gist of what you're trying to say in just one click. Just write your original text and let Writesonic do its thing. You'll be done before you know it! No more wasting time trying to find the perfect words for your text!
Summarize in a click!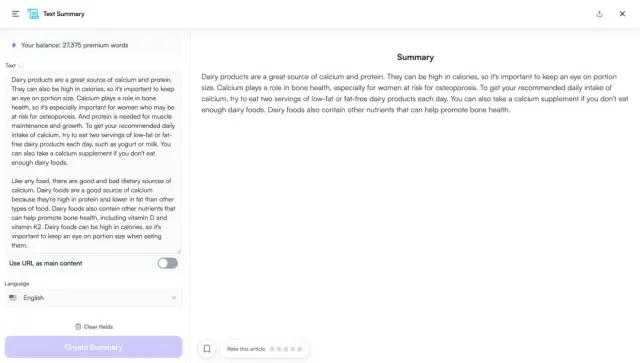 Create engaging hooks that leave a lasting impression.
There's nothing more frustrating than staring at a blank page. Get your writing juices flowing with hooks and make writing a breeze. With Writesonic's text summarizer, you can instantly create compelling and engaging hooks to promote your point and grab the reader's attention in just a matter of seconds. So get ready to jump-start your project! And don't forget to bookmark this summarizing tool for your next task!
Generate hooks that capture the attention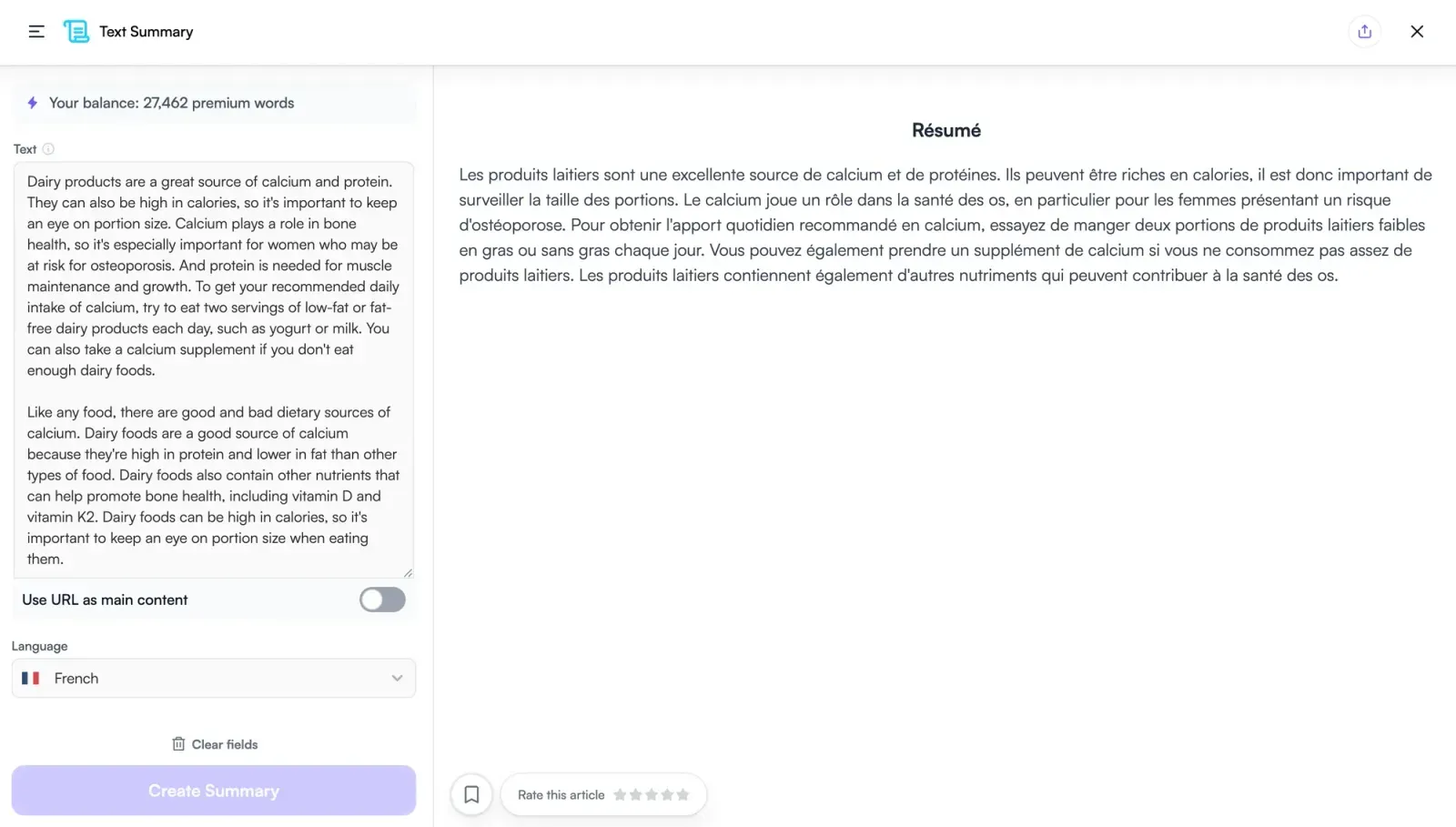 Create a summary in 25+ languages
Not everyone speaks English, so why not communicate with them in a language they can understand and resonate? Writesonic's AI text summarizer can help you deliver your message in 25+ languages, saving you time and making your copy clearer. Just choose your language and hit generate! The summarizing tool will summarize content and provide the main idea of it in a click.
Get your message across in various languages
TLDR your content with the the best summary generator!
Check how you can easily generate a concise and attractive summarized content of your original text copy in a click!
Check out the Summary Tool for free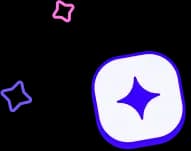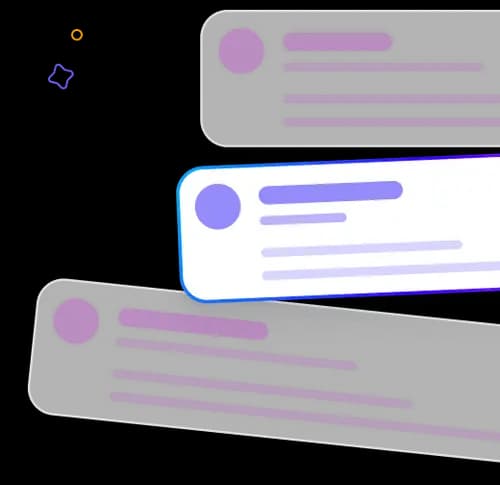 Hit generate, browse, and save the summary
Step 1: Sign up on the Writesonic account and select "Text Summary" from the dashboard.
Get ready to cut down the reading time and generate an engaging summary that can help to grab attention and compel readers to take action. Let's get started!
Firstly, log into your Writesonic account. In case you don't have one, sign up and create an account for free today.
Next, go to the dashboard and click on "Text Summary." It will take you to the text summary generator page where you can generate summarized text.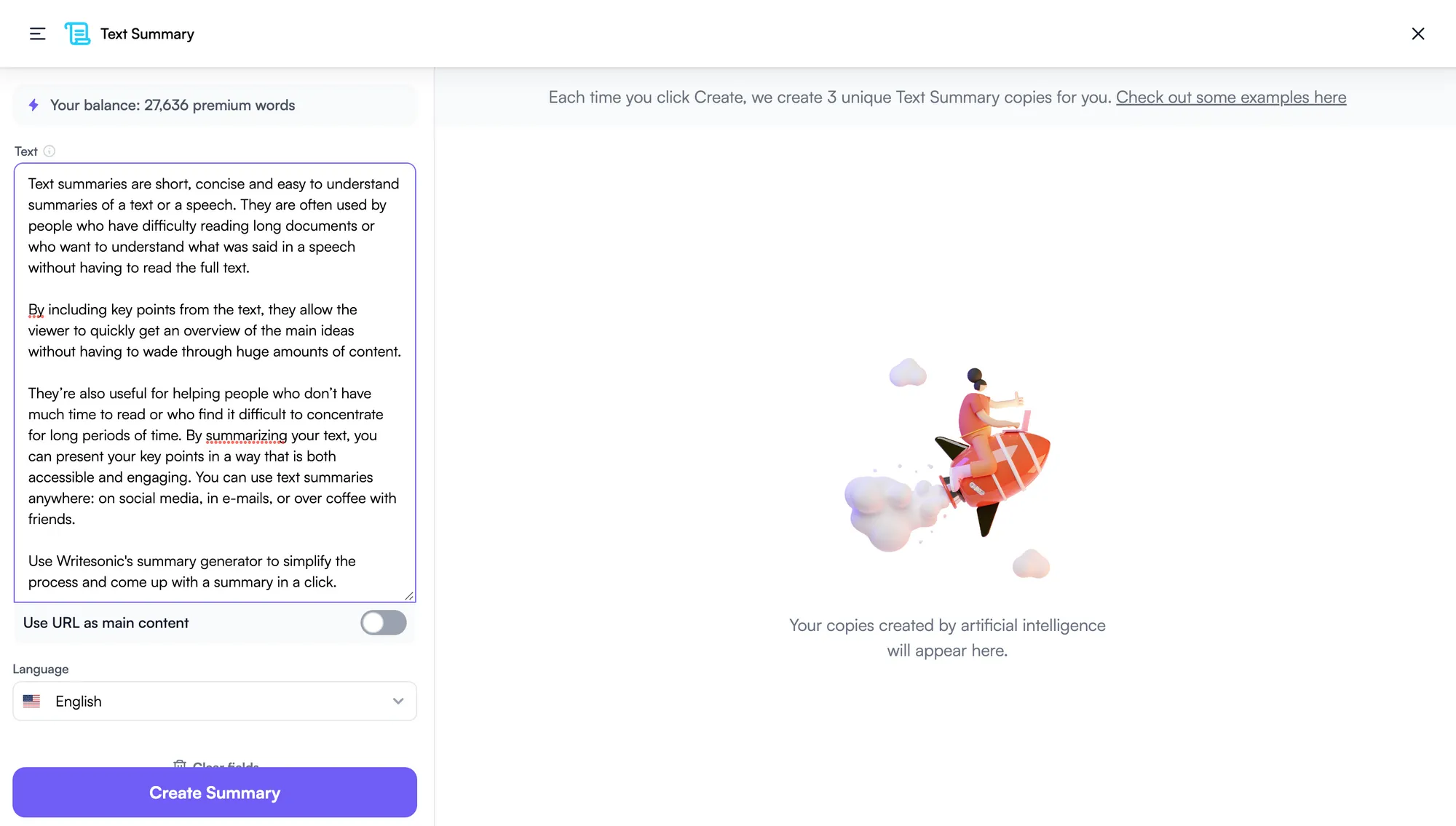 Step 2: Enter the original text and select the language and quality type.
Next, you need to enter the details regarding the text you want to shorten.
Enter the URL of the text you want to generate a summary for in the input box. Don't have a URL? No worries! You can find a button below; click on it to switch to the text option. Then, simply copy and paste the entire content into the text box.
Then, you need to select the language you want. Writesonic supports 25+ languages. And then, you need to choose the quality type, i.e., Superior or Premium.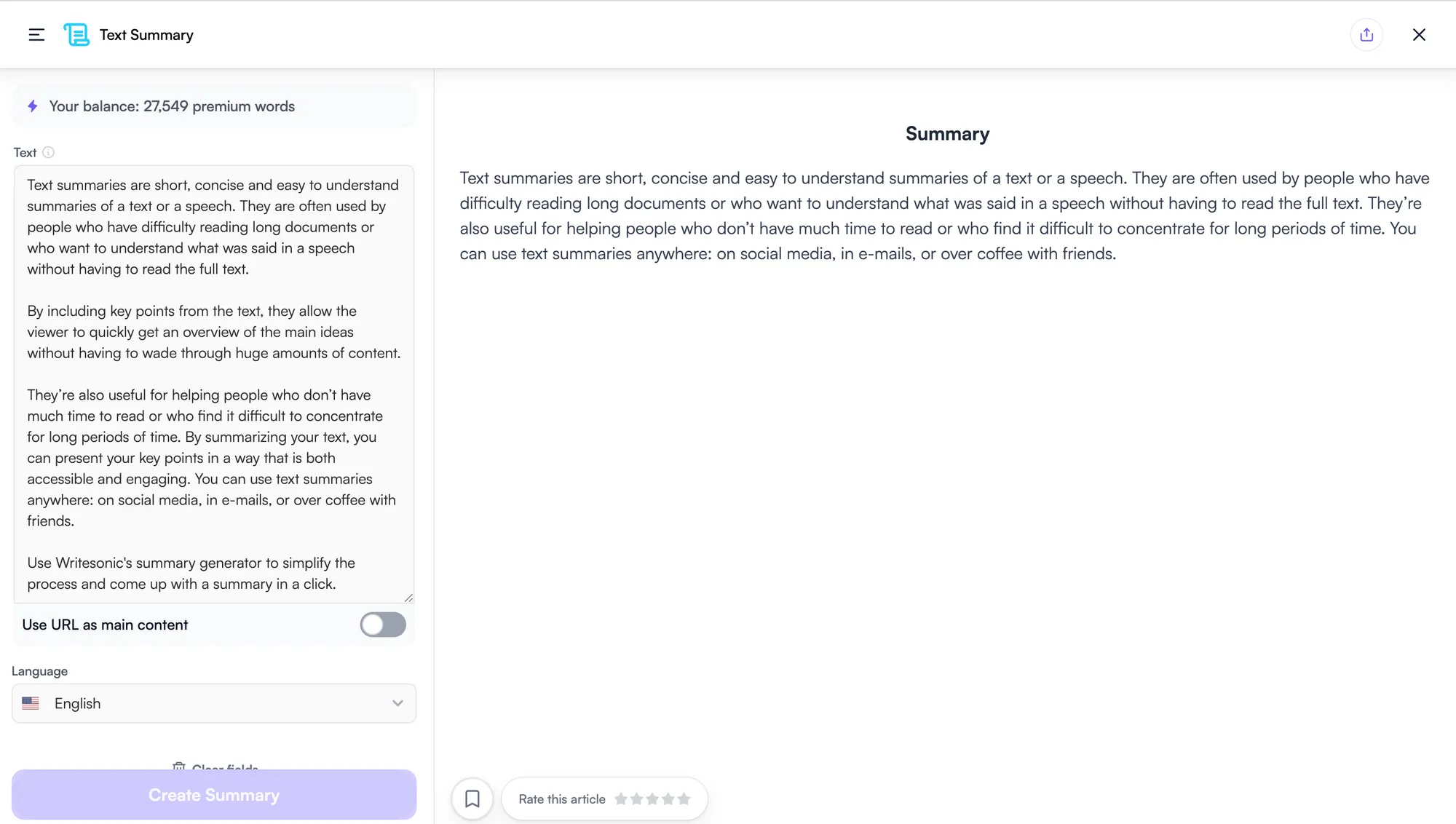 Step 3: Hit generate, browse, and save the summary.
After you have entered all the details and are satisfied with the same, you're good to go!
Hit the "Create Summary" button, and ta-da! Writesonic generates a short and unique text copy of the long text without losing the core message.
But there might be chances when the summary doesn't meet your expectations. Don't worry! In that case, you can hit the "Create Summary" button again. The summary generator will come up with a few more variations that you can choose from.
Frequently Asked Questions