Product Description Generator - Create high-converting and compelling product descriptions in seconds!
Generate SEO-friendly and high-quality product descriptions 10x faster using Writesonic's AI product description generator.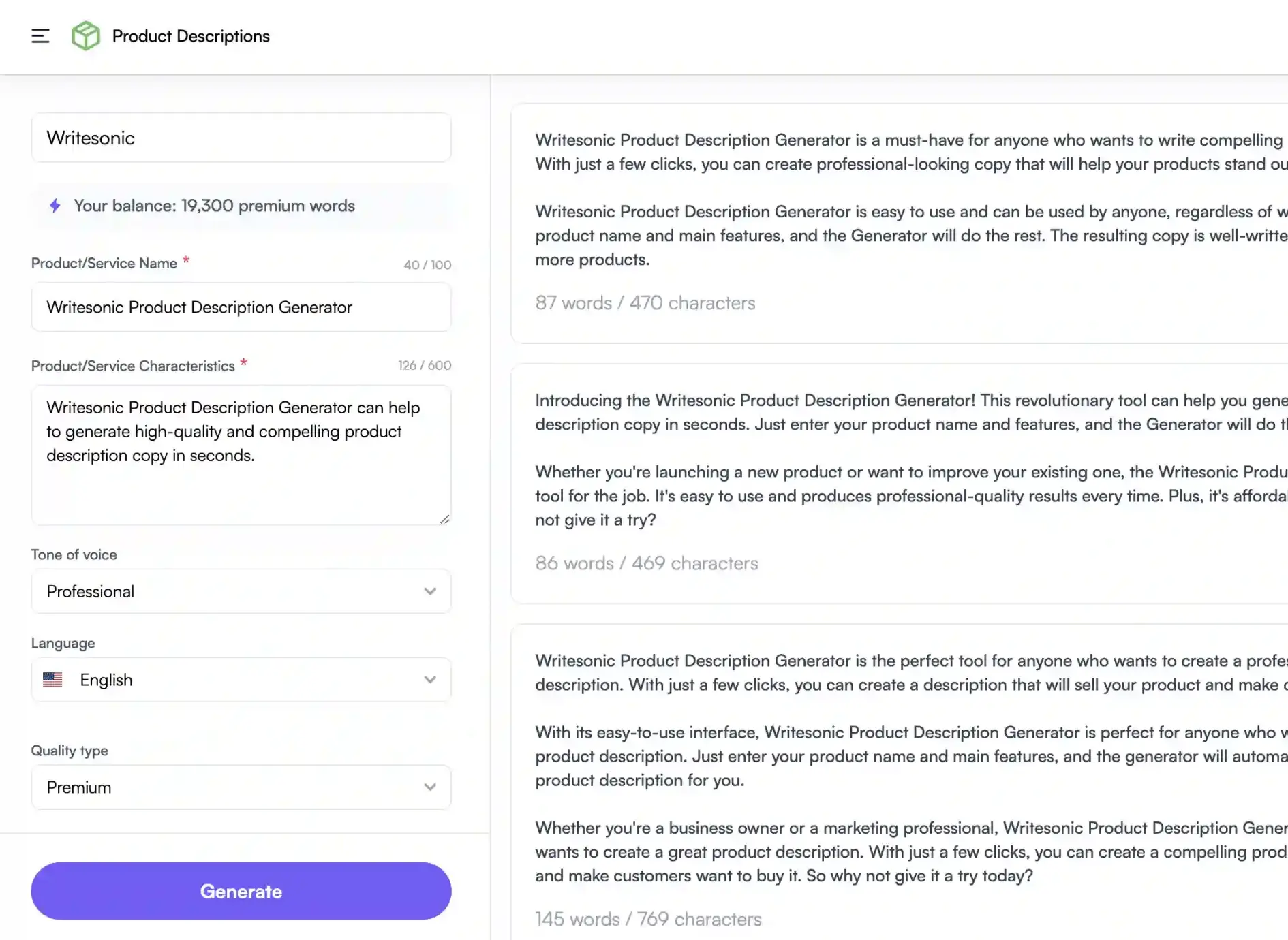 More than 132225 product descriptions have been generated by our clients and the best of brands
5X sales with better product descriptions generated using the AI product description generator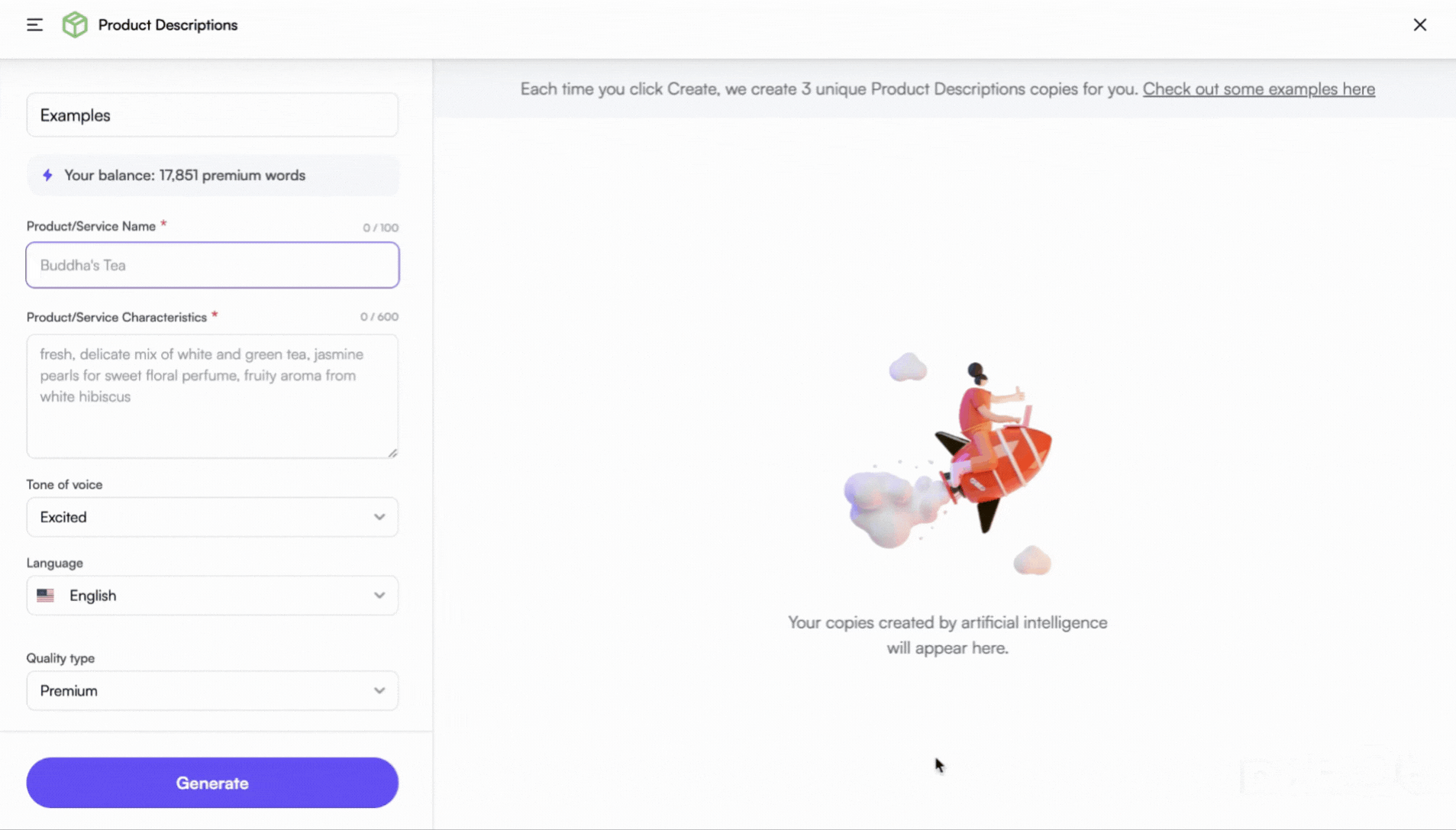 Generate high-converting product descriptions in seconds
Slick and engaging product descriptions are essential for the success of any ecommerce business. And with new products launching everyday, spending time writing a catchy copy is unrealistic, right? Well, don't worry! With Writesonic's product description generator, crafting quality and original product descriptions is no more time-consuming. The AI-powered tool can help you save time and eliminate guesswork by generating copy in a click. Say goodbye to writer's block with our AI writing tool.
Create product descriptions in a click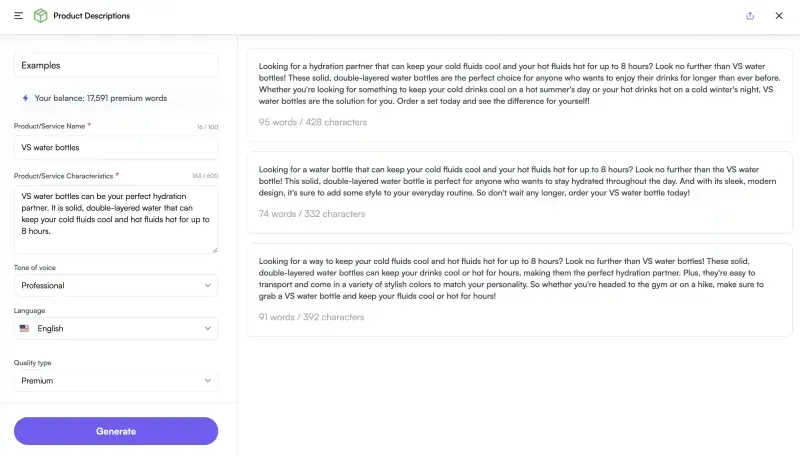 Increase sales with better and SEO-friendly product details
Say goodbye to spending hours trying to come up with a unique and SEO-optimized product description that converts! Writesonic's product description tool can help you write unique product descriptions with relevant keywords that can improve search ranking and attract potential buyers. Let AI generate product descriptions, so you can focus on running your business.
2x your sales and revenue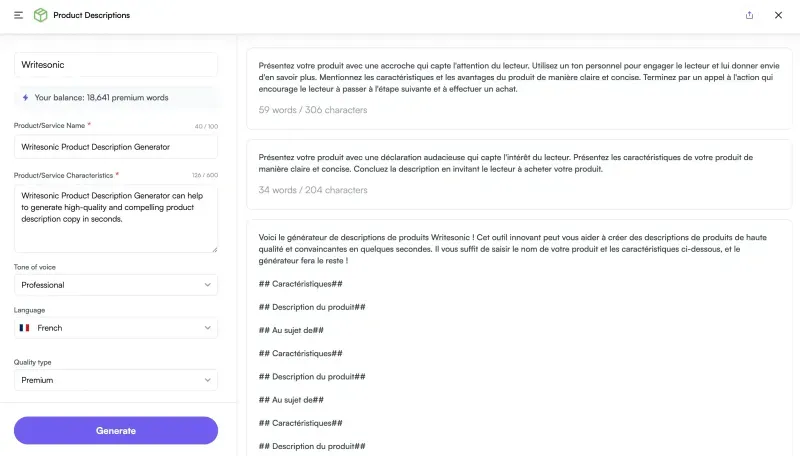 Create catchy product descriptions in 25+ languages
Looking to sell your products throughout the globe and tap international markets? Writesonic product descriptions generator let's you experiment and come up with product descriptions in your preferred language. It can generate creative and unique product descriptions in 25+ languages and can prove to be a perfect tool for eCommerce businesses that are looking to convert their visitors into qualified leads and ultimately boost sales.
Generate copy in multiple languages
Crafting quality product descriptions is no more time-consuming!
Watch how quickly you can generate unique product descriptions that can attract potential buyers with Writesonic's free product description generator.
Get started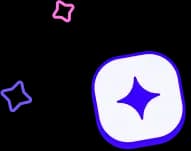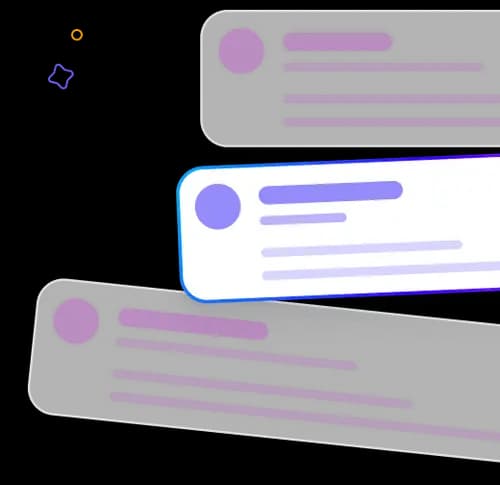 How to use Writesonic's Product Description Generator Tool?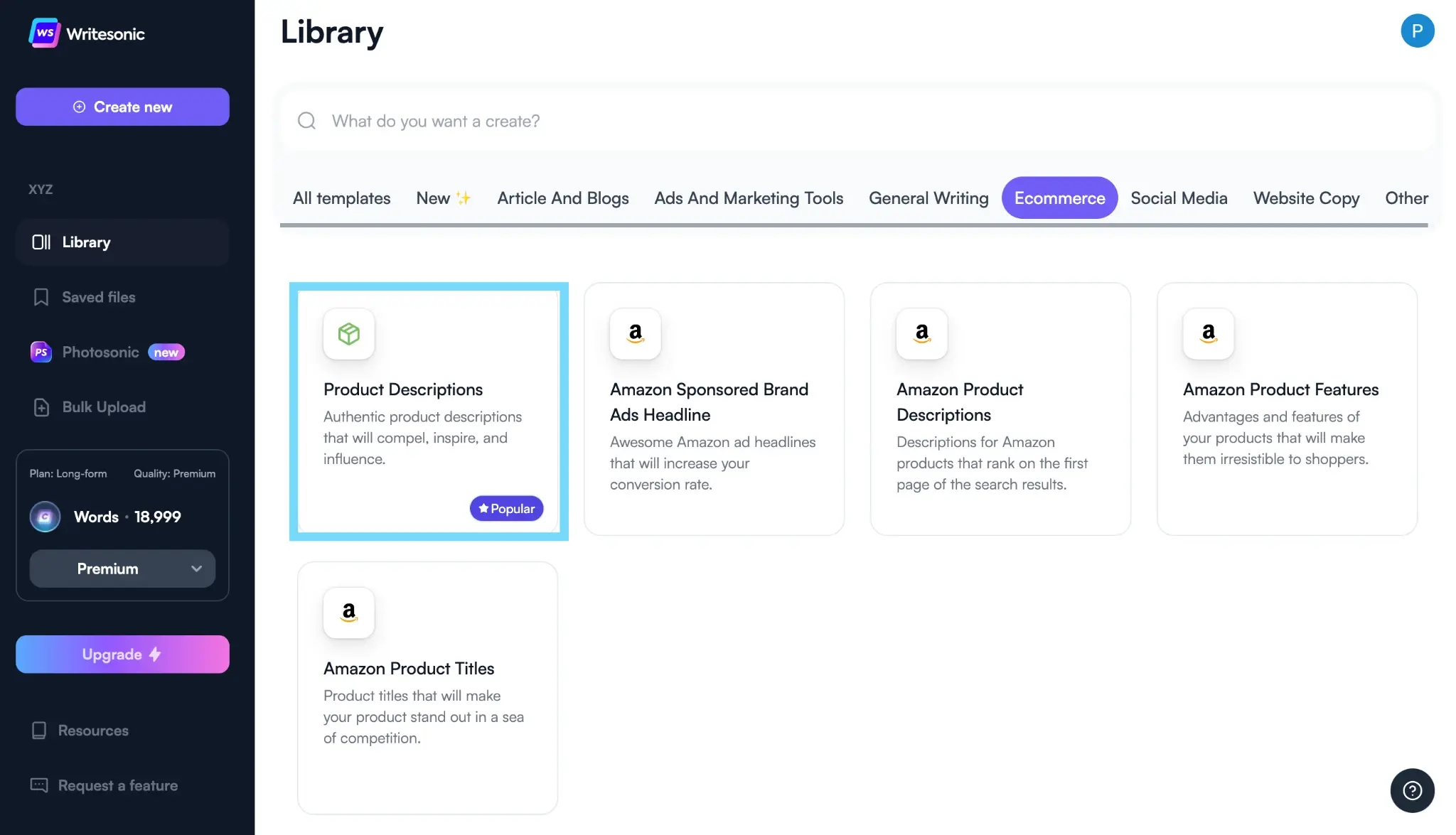 Step 1: Go to the dashboard and select "Product descriptions."
Time to write catchy and trendy product descriptions that can aid in converting visitors into customers 10x faster. Check out how. Log into Writesonic's account. If you haven't created an account yet, sign up and create one for free today. Then, go to the dashboard and click on "Product descriptions." This will redirect you to the product description generator page.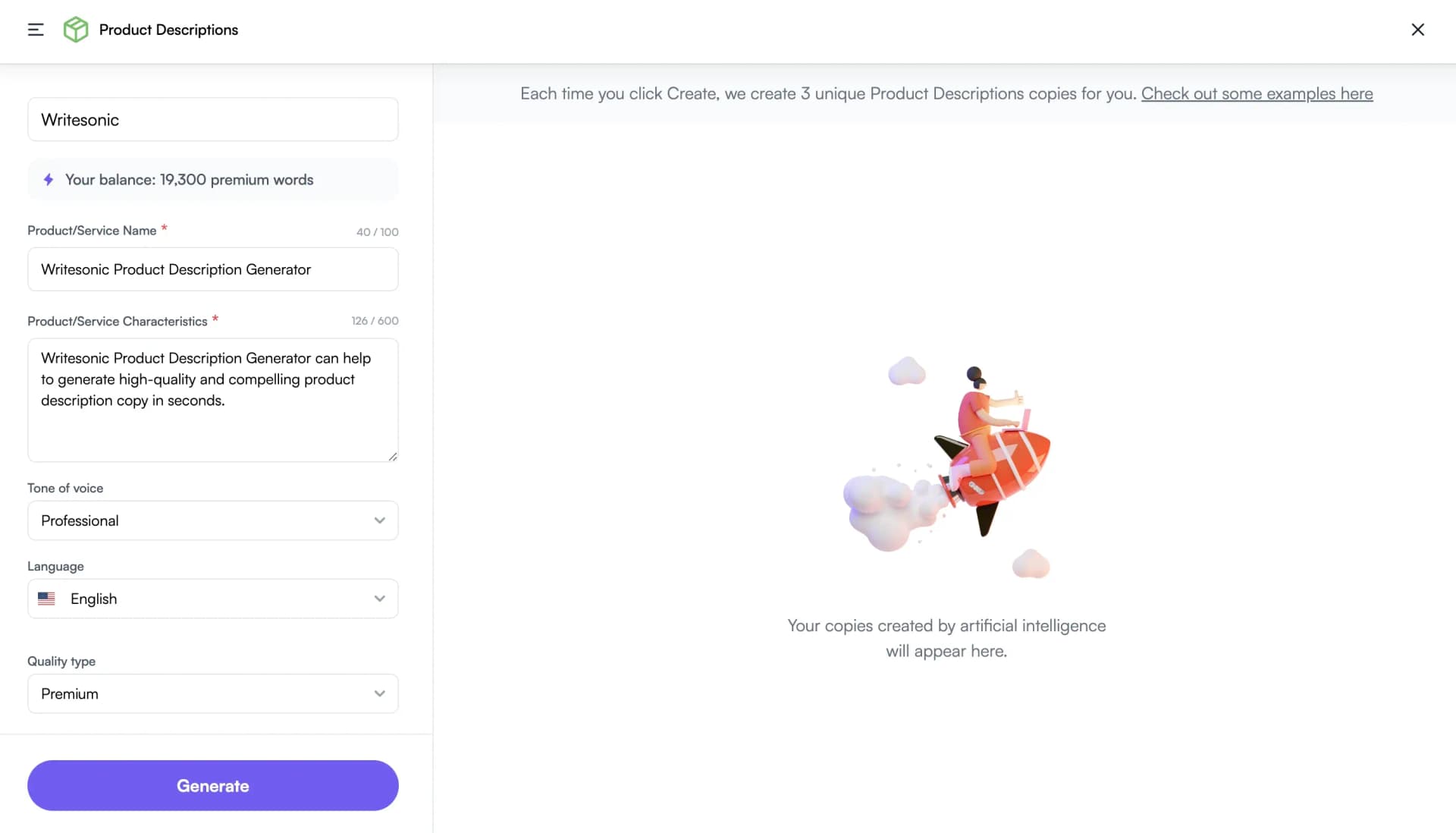 Step 2: Enter your product details.
The next step is entering the input. Remember, your output completely depends on your input. So, try to be as descriptive as possible. Enter the product/service name and characteristics. Then, add the tone of voice you want, for example, excited, professional, and more. Finally, select the language (Writesonic supports 25+ languages) and quality type (Economy, Average, Good, or Premium). Keep the quality premium for better results.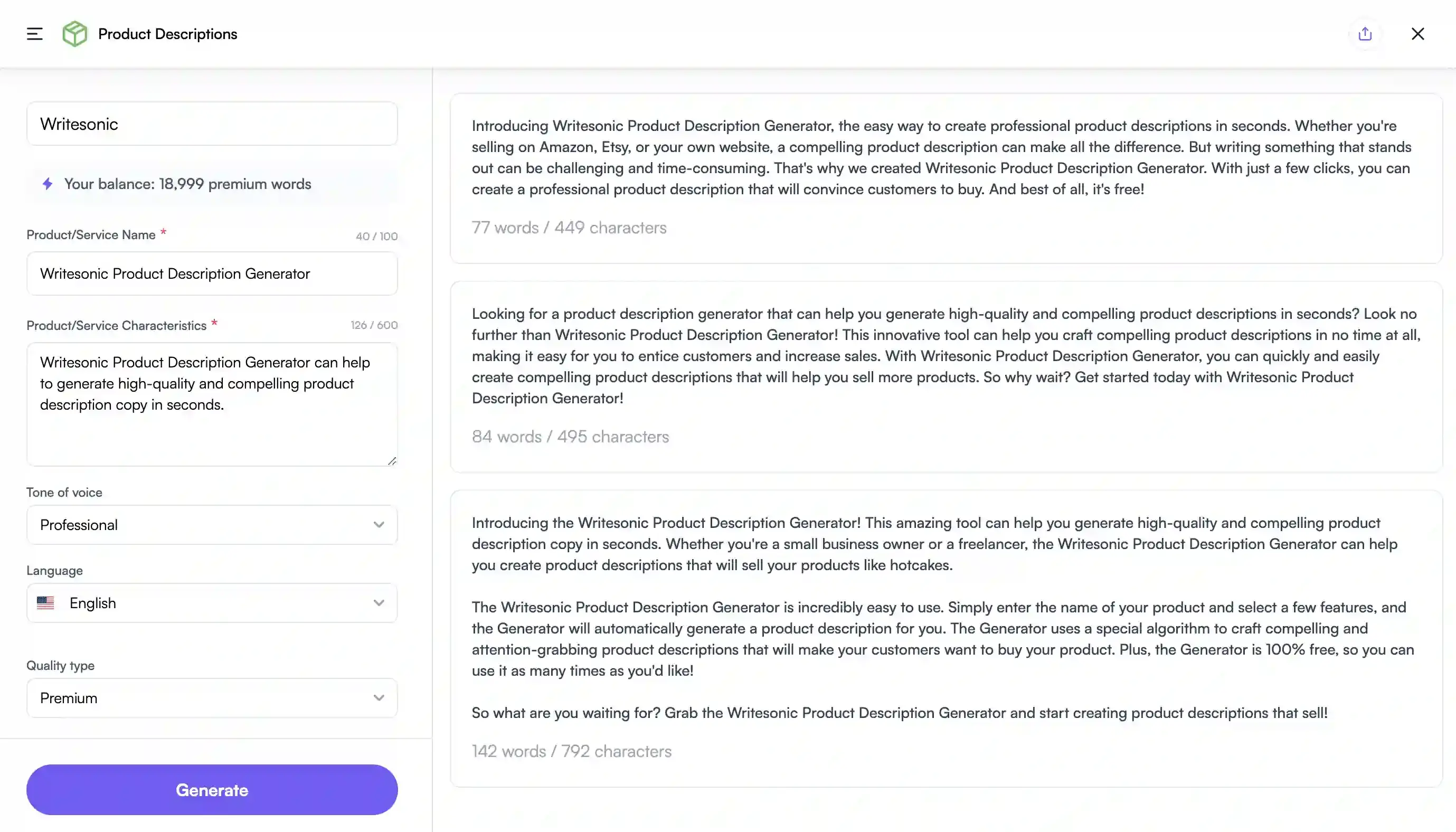 Step 3: Hit generate, browse, and save the best product description
Once you've entered the details and are satisfied with the same, hit generate. And voila! Writesonic generates three catchy and creative product descriptions, as per the inputs provided, that you can choose from. However, there might be chances that the output doesn't match your expectations. Don't worry! Just hit the generate button again, and the AI tool will come up with a few more variations.
Writesonic's product description tool templates to choose from.
Product description examples
Are you looking to write compelling story product descriptions that can also help in search engine optimization? Think about it - a product description that explains product features, contains proper bullet points, and has the ability to convert potential buyers into paying customers - sounds amazing, isn't it? Looking to write such a description? Writesonic's product description creator can help! Want to have a look at how Writesonic product description maker tool works?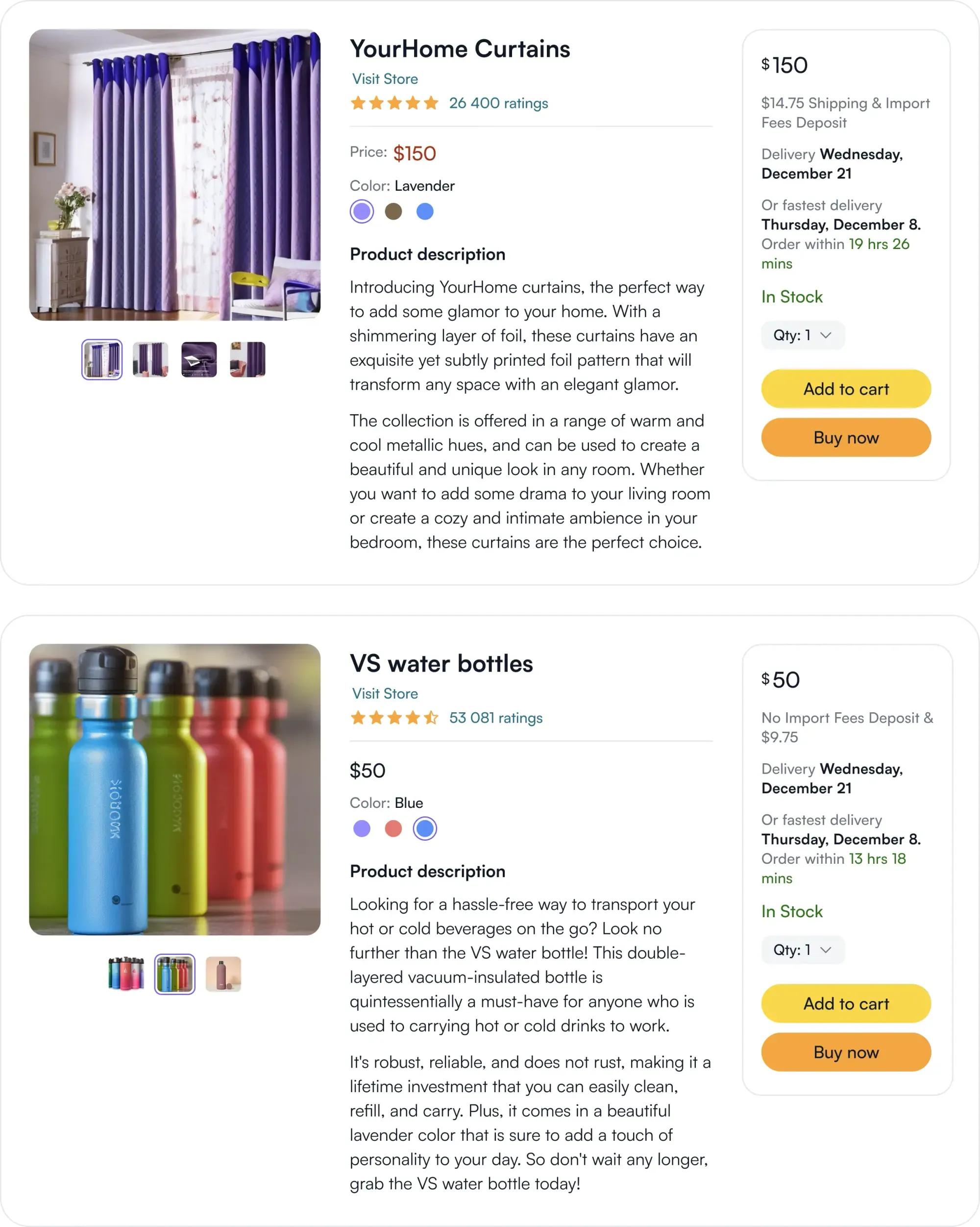 Frequently Asked Questions