Do you often feel stuck in the content creation maze, wishing for a magic wand to simplify everything? Here comes AI writing generators with which content creation gets the futuristic magic twist it deserves.
With the market of AI in marketing projected to skyrocket to a jaw-dropping $107.5 billion industry by 2028, it's not just a trend; it's already a revolution! But wait, there's more! A stunning 82% of content creators surveyed believe that AI-generated content stands toe-to-toe with the content crafted by human hands. Intriguing, isn't it?
From free AI writing generators to premium ones, these AI content writing tools are transforming how we create, curate, and communicate content online.
In this guide, we're diving deep into the best AI writing generator free tools and their premium versions, exploring their unique capabilities, and revealing the top 9 that are set to dominate 2023! Ready to ride the wave of the future with us?
What is an AI Writing Generator?
An AI writing generator is a tool that uses artificial intelligence to generate human-like text. It's a type of technology known as generative AI, which can create new content by learning from large datasets provided as examples. Each AI model is fine-tuned on specific use cases like Google ads, blog posts, etc., so they can learn the patterns. AI content generators analyze vast amounts of data, learning from patterns and nuances in language, and then apply this knowledge to generate new, original content.
AI content generators, like Writesonic, have revolutionized how we create content. These tools, often available as a free AI writing generator or through a subscription model, use advanced technologies like Machine Learning (ML) and Natural Language Processing(NLP) to produce coherent, relevant, and engaging text.
The technology behind these generative AI tools, particularly Large Language Models (LLMs), enables them to generate text to predict subsequent words or phrases in a sentence, crafting content that maintains a natural flow and engages readers. This is particularly useful for businesses and individual creators who need to produce large amounts of content but may not have the resources to do so.
In the context of marketing, AI-generator writing platforms have become invaluable. A staggering 73% of marketing departments are now using generative AI to produce content, highlighting the significant impact these tools have on the industry.
Benefits of AI Writing Generators
AI writing generators offer numerous benefits that can transform your content production process:
1. Time-Saving
AI writing generators, especially the best AI writing generator options (like Writesonic), significantly reduce the time needed to create content, automating text generation and allowing creators to focus on refining and customizing the output.
2. Cost-Effective
Using a free AI content generator or even a premium one can be a cost-effective solution for businesses and individuals, reducing the need for extensive human resources for content creation.
3. Boosting Productivity
With AI writing assistants, free of manual intervention, writers and content creators can enhance their productivity, focusing on strategy and creativity while the AI handles the initial content generation.
4. Consistent Output
Consistency in tone and style is crucial for brand identity. Not every AI writer does this heavy lifting; some, like Writesonic, provide the unique capability to maintain a brand-specific uniform tone and quality, helping creators align their content with their brand identity effectively.
5. Multilingual Content Creation
AI writing tools support multiple languages, enabling businesses to cater to a global audience by providing content in various languages.
6. SEO Optimization
An AI text generator can also assist in optimizing content for search engines, incorporating relevant keywords, and structuring content to enhance visibility on platforms like Google.
7. Versatility
From blog posts and articles to social media content and product descriptions, writing generator AI tools can create various content types catering to diverse needs.
8. Scalability
For businesses looking to scale their content creation, AI writing software provides a viable solution, enabling the production of large volumes of content without compromising on quality.
9. Customization
An AI content generator allows for customization, enabling creators to input specific guidelines, tones, and styles to ensure the output aligns with their needs and brand identity.
Now that we've covered the basics and explored the capabilities of an AI text generator and writing platforms let's explore the best AI writing generators you should consider in 2023.
Top 9 AI Writing Generators in 2023
Ready to say goodbye to writer's block once and for all? Here are the 9 best AI writing generators to help you never run out of ideas for your content strategy and beat your competition:
1. Writesonic
Writesonic is a paramount AI writing tool in the market, designed to elevate your content game. It is recognized as the #1 AI writing tool, aiding in crafting content at a pace 10 times faster, thereby propelling your business to unprecedented heights. Powered by advanced GPT-4 technology, Writesonic offers over 100 templates catering to diverse content creation needs. It is a one-stop solution for various writing requirements, including blog post writing, high-converting landing page creation, and compelling social media copy crafting. Writesonic is user-friendly, making content generation accessible even for individuals from non-tech backgrounds.
Standout Features of Writesonic:
Article Writer 5.0: Article Writer 5.0 helps generate high-quality, coherent, and contextually relevant articles. It can create articles based on the prompts or keywords provided, ensuring the content is tailored to your specific needs and topics. This feature is designed to aid in producing detailed and informative articles with minimal user input, saving time and effort in content creation.
GPT-4 Technology: Writesonic utilizes cutting-edge AI technology powered by GPT-4 to cater to all your writing needs. Whether blog writing, crafting high-converting landing pages, or compelling social media copy, Writesonic is a versatile solution. You can select GPT 3.5 turbo, GPT-4, or GPT-4 (32k) as per your content needs.
User-Friendly Interface: Writesonic is designed to be user-friendly, allowing individuals from non-tech backgrounds to generate content effortlessly, making it a reliable teammate working for you 24/7.
Cost-Effective Platform: Despite its extensive features, Writesonic offers a high-performing, cost-effective platform, providing an unbeatable blend of quality and value.
Chatsonic by Writesonic: Chatsonic is an advanced AI-powered chatbot capable of creating up-to-date content, understanding voice commands, and acting as your personal assistant.
Integrations: Writesonic offers integrations with platforms like Zapier and WordPress to streamline your content creation process and enhance efficiency.
Brand Voice: Create a consistent brand voice across your content to maintain brand identity.
Automatic Blog Image Generation: Generate relevant images based on your blog content (powered by Photosonic).
Bulk Upload Feature: This feature allows you to generate content in bulk, saving time and effort.
Paraphrasing Tool: Rewrite content quickly with the Writesonic paraphrasing tool.
Landing Page Generator: Create high-quality, conversion-worthy landing pages.
Product Description Generator: Craft compelling product descriptions to increase conversion rates.
Pricing of Writesonic:
Free Plan: Writesonic has a forever Free plan that provides up to 10,000 words/month, allowing users to explore the platform and its basic features without any financial commitment.
Freelancer Plan: This plan has unlimited generations with no limit and is available at $20/month, providing a flexible option for freelance writers and small content creators.
Small Team Plan: For small teams, Writesonic offers a plan that starts from $19/user for 100,000 words, which refreshes every month.
Enterprise Plan: For larger teams or businesses with extensive content needs, Writesonic offers an Enterprise plan. The pricing is customizable and can be discussed with the Writesonic sales team.
For more details on our pricing plans, click here.
Writesonic has received several 5-star reviews on G-2, Capterra, and Trustpilot platforms. With an AI-powered tool like Writesonic, businesses can shape powerful narratives and well-written content that resonate and turbocharge customer engagement.
Ready to create high-quality content with the best AI tool and 10x your business growth?
2. Copy.ai
Copy AI is an artificial intelligence writing tool. It's a go-to for digital marketers and online business owners looking to expedite their copywriting and content creation processes. Whether you're crafting digital ad copy, product descriptions, or social media content, Copy.ai is ready to lend a helping hand.
Key Features of Copy AI:
Versatility in Content Creation: Copy.ai specializes in various services through 90+ templates, including product descriptions, digital ad copy, website copy, sales copy, and email content. It's particularly adept at creating content for websites, landing pages, sales letters, social media, and email marketing.
Improve Feature: This feature enhances prompts to generate better-quality content with a single click. It allows users to add context for better refinement and transforms prompts into clear and concise commands.
Infobase: You can store critical information within Infobase and reference it via tags, ensuring they do not have to input repetitive information.
Multilingual Capabilities: Copy AI supports 95+ languages.
Plagiarism Checker: This built-in feature allows creators to double-check written content before publishing.
Multi-use case prompt templates: Copy AI has a library of 90+ prompt templates and workflow templates
Limitations of Copy AI
Content Quality: Copy AI can be hit or miss regarding content quality. Some outputs might be spot on, while others can be off the mark or irrelevant to the provided input. Also, the tool lacks SEO considerations.
Long-Form Content: The creation process of long-form content is sectional and can be cumbersome for users looking to generate longer articles or blogs efficiently.
Pricing: At $49 per month, it's one of the more expensive AI writing assistants available, especially considering the limitations in content creation and SEO features.
Customization: The inability to create custom templates or use cases restricts users to the available templates, which might not cater to all content creation needs.
Copy AI Pricing:
The Creator and Teams plans start at $49 and $125, respectively, with an option for a customized Business plan. You also get a free trial of 7 days for the first two plans.
💡
Writesonic vs. Copy AI
Copy AI lacks proper SEO optimizations, limited support for long-form content, and a steeper price point. Whereas Writesonic stands out as the more comprehensive and cost-effective AI writing generator for varied content creation needs and is also equipped with SEO capabilities. So, if you're eyeing quality, affordability, and a rich feature set, Writesonic is the way to go!
Feel free to check out our guide on the best Copy AI alternatives.
3. Jasper
Jasper AI is an AI writer tool that prides itself on being a co-pilot for enterprise teams. With capabilities like generating blog posts, marketing copy, and landing pages swiftly, it aims to be a robust ally in content creation and marketing strategy, especially for those who seek efficiency and quality in their digital content.
Key Features of Jasper
Versatility and Adaptability: Jasper AI specializes in creating a wide array of content, from SEO-rich blog posts and engaging social media content to ad copies and even AI script writing for YouTube videos. Jasper has a library of 50+ templates.
Custom Recipes and Templates: One of the standout features is the ability to create custom recipes and templates. With these, you can generate repeatable content, consistent structures, and high-quality content with a click.
Multilingual Capabilities: Jasper AI isn't confined to English; it can write and translate content in 30+ languages, broadening your content reach and audience.
Browser Extension: A Chrome extension to bring the AI assistant into the browser for ease of use.
Rephrase & Rewrite: With these features, you can improve your content, adjust tone and length, or repurpose with a single click.
Tone of voice: You can let the AI analyze your content's tone of voice so that Jasper can generate content according to the tone and formatting rules set by you
Limitations of Jasper:
Pricing: Jasper's pricing is a barrier for small businesses or individual users, as it is one of the most expensive AI writing tools.
Content Quality: While Jasper does produce quality content, it may sometimes require a good amount of editing and refinement to meet specific standards or tones.
SEO Optimization: Jasper doesn't offer in-depth SEO optimization features crucial for content to rank and gain online visibility.
Pricing of Jasper:
The Creator and Teams plans start at $49 and $125, respectively, with an option for a customized Business plan. You also get a free trial of 7 days for the first two plans, but you need to provide your credit card details.
💡
Writesonic vs. Jasper
While Jasper does bring commendable features to the table, the lack of in-depth SEO features, a steeper price point, and potential additional editing requirements slightly dim its shine. On the other hand, Writesonic is not only a wallet-friendly option but also ensures your content is high-quality and SEO-optimized, thanks to its integration with Semrush.
You can check out our guide on the best Jasper alternatives.
4. Rytr
Rytr is an AI writing assistant designed to help users generate text content swiftly and efficiently. Built on OpenAI's GPT-3 API, this tool stands out for its simplicity, user-friendly interface, and affordability. Rytr aims to be a valuable asset for those who seek to use artificial intelligence to produce various content types, from blog ideas and product descriptions to video intros.
Key Features of Rytr:
Multi-Language support: Rytr supports content generation in 30+ languages, one of the highest among AI writing tools, making it a versatile choice for multilingual content needs.
Extensive text editing & formatting: Users can refine the AI-generated content with options like expand, reword, or shorten and check for plagiarism (built-in checker), allowing quick and efficient editing.
Multiple Use Cases: Rytr allows users to create custom templates and use cases, offering flexibility in content creation.
Variety of Templates: From social media posts and CTAs to blog outlines and video descriptions, Rytr offers 40+ use cases and templates to cater to different content requirements.
Browser Extension: Rytr offers a Chrome extension for ease of use
SEO Analyzer: This feature helps to find optimal keywords and create the best content brief. Also helps to write SEO-optimized meta titles for blog posts and your website.
Limitations of Rytr:
Pricing Flexibility: Although it offers a few plans, it might not cater to all specific needs as effectively as some alternatives.
Quality Concerns: There might be instances where the output quality doesn't meet expectations, especially when compared to other platforms that produce high-quality, SEO-optimized content.
Feature Limitations: Rytr is somewhat limited in advanced features like long-form content creation, bulk content generation, landing page generation, and integrations, which might be crucial for small to midsize teams seeking a complete content creation solution.
Pricing of Rytr:
Rytr has a free plan with a 10k characters per month limit. The paid plans available are Saver ($9/month) and the Unlimited plan (starts at $29/month).
💡
Writesonic vs. Rytr
Rytr offers a straightforward, user-friendly platform that can assist in generating a variety of content quickly. However, when compared to Writesonic, it might fall short in delivering advanced features and maintaining consistent quality, especially for longer content pieces. Writesonic has a plethora of tools that cater to various content needs, from blog posts to ad copies, without compromising on quality and coherence.

You can check out our guide on the best Rytr alternatives.

5. Frase.io
Frase.io is an AI writing assistant designed to supercharge your content creation process. It's not just your typical AI writer; it's a unique blend of research and writing, aiming to save you precious editorial time. Whether drafting blog posts or optimizing SEO content, Frase.io offers a suite of features to streamline your writing workflow. But is it the knight in shining armor for content creators? Let's delve deeper to find out!
Key Features of Frase:
Research Assistance: Frase.io stands out with its cutting-edge research tools, analyzing the top 20 SERP results to generate insightful content briefs. It offers suggestions on potential headings, resources, and statistics to include in your article. You can also analyze existing content for gaps and optimize your content accordingly
Keyword Research tool: This built-in feature allows you to analyze search volumes and competition levels for any keyword to identify the best keywords for your content
Content Outlining: You can effortlessly create content outlines with the information gathered. Frase.io allows you to browse different types of headings and even search for a target keyword you want to feature.
Content Optimization: Frase.io provides keyword recommendations and scores your content based on its optimization level. It helps you understand how often you should use specific keywords in your text, aiding in creating SEO-friendly content.
Questions Research: Frase.io can research Quora, People Also Ask, and Reddit to generate questions related to the topic, which can be valuable for drafting content or an FAQ section.
Limitations of Frase:
No Free Plan: Unlike some other AI writing tools, Frase.io doesn't offer a free forever plan for beginners and students.
Document Limitation: The basic paid plan restricts users to a maximum of 30 articles per month, which might not be sufficient for heavy users or larger businesses.
Less language support: Frase supports only 8 languages, whereas other competitor tools offer at least 25+ languages
Pricing of Frase:
You can start with a 5-day trial for $1. The paid plans available are Solo ($14.99/month). Basic ($44.99/month) and Team (starts at $114.99/month)
💡
Writesonic vs. Frase
Frase.io lacks a free trial, and the higher pricing can deter some users. Whereas Writesonic has a forever free plan and also a free trial for all plans. Moreover, Writesonic supports 25+ languages, whereas Frase only supports 8.
6. INK
Inkforall is a versatile AI tool designed to assist businesses and content creators in crafting high-quality SEO content efficiently. It serves as a competent, tailored copywriter, understanding your business's nuances and enabling you to write better while saving time. Inkforall stands out as an easy-to-use editing tool, offering a range of features from content generation to SEO optimization. Whether you are a seasoned writer or a beginner, Inkforall is a go-to tool for creating refined and engaging SEO-friendly content.
Key Features of INK
Intuitive Interface: Inkforall boasts a user-friendly interface, making it accessible for users of all levels of expertise.
Diverse AI Writing Features: The tool offers multiple features for AI writing, ensuring better and more engaging content creation.
SEO Optimizer: The feature provides users with real-time SEO recommendations to enhance website ranking and increase traffic.
INK Content Shield: This feature helps protect original content from content theft and ensures Google recognizes the original source.
INK AI Assistant: The AI assistant helps users by suggesting ways to improve content and make it more engaging and SEO-friendly.
INK Keyword Research & Keyword Clustering: These features help users find relevant keywords and group them to make it easier to create SEO-friendly content.
Limitations of INK :
Mismatched Descriptions: There have been instances where the generated descriptions do not align well with the input information, which might require additional editing and refinement.
Consistency in Quality: While INK for All offers a variety of tools and features, some are still in beta testing, which might produce content that is occasionally repetitive or lacks depth.
Language: The document editor and SEO features only support English, which can be a limitation for non-English speakers.
Pricing of INK:
INK offers a 5-day free trial (no credit card required) with a limit of 10k words. The Professional plan costs $49/month, and the Enterprise plan starts at $199/month.
💡
Writesonic vs. INK
INK offers a valuable AI writing tool but falls short in providing the extensive template variety and advanced AI capabilities that Writesonic offers. The limitations in language support, platform availability, and sometimes inconsistent content quality might pose challenges for content creators who require diverse and reliable content solutions. Writesonic takes user experience a notch higher by offering various templates, ensuring that your content, regardless of its type, is crafted with precision and relevance.
7. Writer.com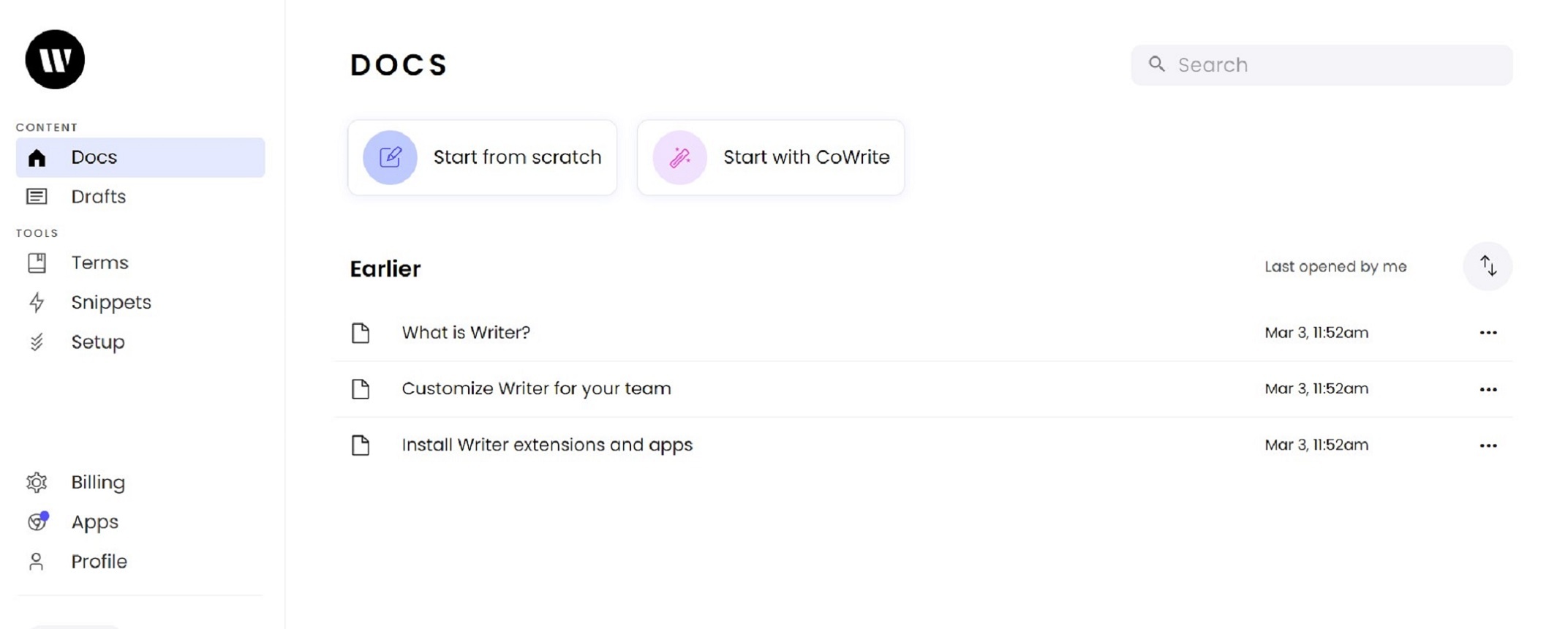 Writer.com is an AI content writing platform designed to assist writers in finding the best words, adhering to a specific message, and correcting grammatical errors. The app aims to unify, save time, and simplify various written content tasks. It is particularly tailored for businesses, focusing on the needs of marketing teams, brand agencies, social media managers, sales and HR departments, PR, and other business-related writing workflow tasks. Writer.com stands out by offering a style guide-building platform that enables teams or entire corporations to establish rules for style, language, tone, and much more.
Key Features of Writer.com:
In-Depth Content Checker: Writer.com combines grammar checking with detailed guidelines for language and tone, ensuring that every writer using the program adheres to the set rules.
Content Analytics: This feature helps to understand how your team writes and finds opportunities for improvement and consistency.
Customizable Style Guide: The platform allows companies to set rules for messaging goals, tone, style, do's and don'ts, writing for accessibility and gender, plagiarism problems, preferred terms, and the proper definition of industry terms for your brand.
Wide Compatibility: Writer.com is compatible with writing apps like Microsoft Word or Google Docs, email clients like Gmail and all major social media platforms. It also has extensions for browsers like Google Chrome.
Factual Accuracy: Detects claims and suggests replacements based on data from knowledge sources.
Limitations of Writer.com:
Pricing: Writer.com's pricing might be a barrier for small businesses or individual users due to its relatively high costs.
Customization: The level of customization, especially in terms of style and tone, might not be as advanced as some other platforms.
Limited Templates: Writer.com might not offer as diverse a range of templates as some other platforms, potentially limiting creative options.
Pricing of Writer.com:
The Team plan costs $18/month/user (up to 5 users). You can get a 14-day free trial (no credit card required) for this plan. Writer also has an Enterprise plan with custom pricing.
💡
Writesonic vs. Writer
Writer.com, while offering a robust platform, comes with its own set of challenges, such as a potentially steeper pricing model and a user interface that might not be as intuitive to some users. Writesonic, on the other hand, not only accelerates the content creation process and ensures that the output is coherent, engaging, and adheres to the brand's voice and guidelines.


8. Anyword
Anyword is a cloud-based AI writing tool designed to cater to the diverse needs of marketers and writers across various industries. The platform leverages natural language processing to generate, test, and optimize marketing copy for websites, social media, email, and ads. It is an exceptional writing solution, offering many tools and features to enhance writing skills and meet client requirements. The platform is entirely web-based, making it accessible and convenient for users.
Key Features of Anyword:
Ease of Use: Anyword offers a user-friendly interface with a personalized dashboard, making it easy for users to navigate and utilize the various tools available.
Variety of Tools: The platform provides a fantastic array of tools, including an editor and copy intelligence, to help users create and improve content.
Template Selection: Users can choose from 100+ marketing templates, including SEO, social posts, product postings, general writing, copywriting frameworks, articles/blogs, and more.
Brand Voice Feature: Anyword offers tools to define and maintain a consistent brand voice across all marketing materials by allowing users to set brand rules, add custom formulas, and provide unique information about the company.
Copy Scoring AI: Anyword's proprietary Copy Scoring AI, trained on billions of real marketing assets, can predict how well copy will convert and engage audiences before going live.
Limitations of Anyword:
Customization and Branding: While Anyword does offer AI-powered insights and real-time editing, it lacks the depth of customization and brand-tailored AI that some businesses might require, especially larger enterprises or those with very specific content needs.
The blog wizard feature is a bit complicated, asks for loads of details, and sometimes generates random output
The platform can be a bit overwhelming for beginners because of too many features
Pricing of Anyword:
You can get a 7-day free trial for any of the paid plans. The paid plans are Starter ($49/month), Data-Driven (starts at $99/month), and Business (starts at $499/month). Anyword also has a custom Enterprises plan.
💡
Anyword vs. Writesonic
Anyword does bring ease of use and real-time editing to the table, but it might fall short in providing the depth of customization and brand-tailored AI that Writesonic offers. Writesonic doesn't just stop at creating great blog content. You can create a complete landing page and receive five different content variations to choose from. Writesonic also has an excellent content rewriting feature.
9. Simplified AI writer

Simplified offers an innovative AI writing generator designed to streamline the content creation process for writers and marketers. With its advanced features and user-friendly interface, Simplified' Text Generator aims to enhance a writer's productivity and creativity, allowing users to generate high-quality content efficiently. Whether you are crafting blog posts, social media content, blogs, or marketing copy, Simplified offers a range of tools to meet your writing needs.
Key Features of Simplified AI writer
Intuitive Interface: Simplified boasts a clean and intuitive interface, making it easy for users to navigate and access its various features.
AI-powered Writing: Leveraging advanced AI technology, Simplified generates creative and coherent content, aiding writers in crafting compelling narratives.
Content Optimization: The platform offers tools for SEO optimization, ensuring that your content ranks well on search engines and reaches a broader audience.
Diverse Templates: Users can choose from various templates tailored to different content types, making writing more structured and efficient.
Real-Time Editing: Simplified provides real-time editing and suggestions, allowing users to make instant improvements to their content.
Limitations of Simplified AI writer
Pricing: Simplified does not cater to all market segments effectively with its pricing strategy, potentially alienating smaller businesses or individual users with budget constraints.
Features: While Simplified does offer a range of tools, it lacks some advanced features that competitors like Writesonic provide.
Long-Form Content: Simplified's long-form writing assistant is only available in its highest pricing plan, limiting access for users on a budget or with lower usage needs.
Pricing of Simplified AI Writer
AI Writer Free Plan provides users with 2,000 free words per month. Additional words can be purchased if needed. The Pro plan starts at $18/month and offers 35,000 words and 1 seat. This plan also comes with a 14-day free trial.
💡
Writesonic vs. Simplified AI writer
Simplified, while offering a commendable range of tools, falls short in providing advanced features related to SEO optimization in all its pricing plans and lacks the industry recognition that Writesonic proudly displays. Writesonic integrates with SEMrush for SEO-optimized content generation and offers a predictive scoring feature to help users gauge the potential success of their content. The limitations in features and Writesonic as a more versatile and reliable choice for users.
Feel free to check out our guide on the best Simplified alternatives.
AI Writing Generators: The Future of Content Creation
AI writing generators are not just a fleeting trend; they are here to stay. They are transforming the content creation landscape, making it easier, faster, and more efficient to produce content than ever before. With these tools, you can produce high-quality, engaging, and SEO-optimized content that resonates with your audience.
However, remember that while AI writing tools can assist you with content ideas, they cannot replace the human touch. The creativity, critical thinking, and emotional intelligence humans bring to content creation are irreplaceable. Therefore, use these tools as companions in your content creation journey, not substitutes for human creativity.
So, are you ready to embrace the future of content creation? Try these top 9 AI writing generators in 2023 and take your content to the next level!